Sky customers in the United Kingdom and Ireland can now watch Netflix on their Sky Q box. The Netflix app is also available on NOW TV streaming devices. It may be an indication that Netflix is just another video channel, at least that is how pay-television providers would like to see it.

Existing Netflix subscribers can simply link their account to their Sky Q box.
Alternatively, Sky customers can add Netflix to their subscription with an Ultimate On Demand package, combining 500 Sky Box Sets and access to Netflix for an additional £10 a month, on a rolling monthly contract. They can either create a new account or link to an existing Netflix account and associated profiles, in which case their billing will switch from Netflix to Sky.
In our case, linking the services was relatively simply achieved by the one-time entry of the email address and password associated with the Netflix account.
Thereafter, Netflix titles can be accessed directly through the Sky Q box. While Netflix titles are surfaced through the on-demand section, viewing the service is through a version of the Netflix app, which operates as usual, through the Sky Q remote.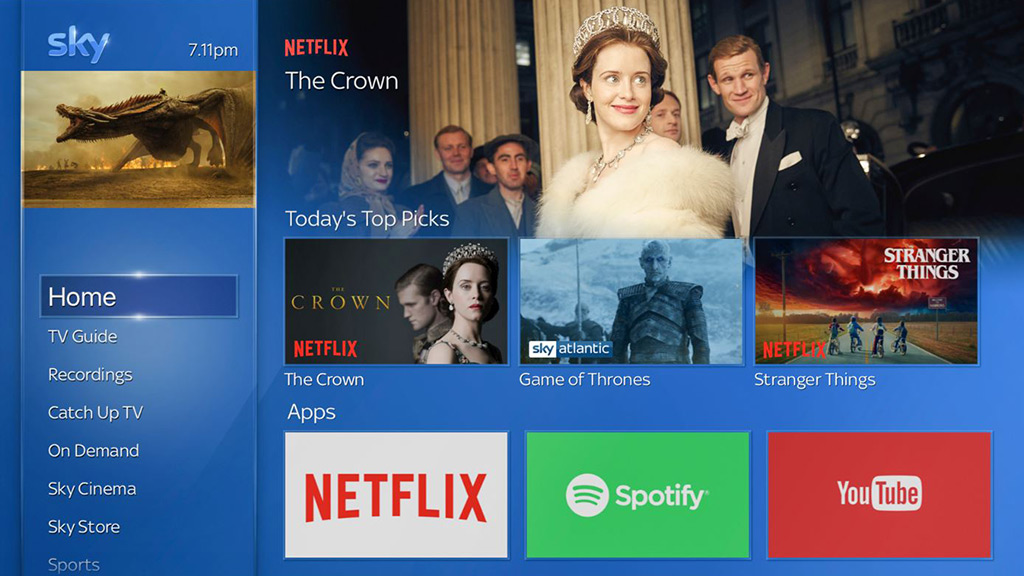 The Netflix app is also available on NOW TV streaming devices, including a new Roku powered NOW TV Smart Box with 4K & Voice Search.
The obvious viewer benefit is that both services can be accessed through a single interface, with a single remote control, rather than switching between video sources.
That convenience could promote usage of Netflix, but it will still be associated with and integrated within the Sky platform, rather than being seen as a competing alternative.
Ofcom research suggests that people in the United Kingdom with access to online video subscription services watch nine programmes a week on Netflix, watching for over seven hours a week, or around an hour a day.
In 2018 The number of subscriptions to streaming services like Netflix, Amazon and NOW TV surpassed those for traditional television subscriptions in the United Kingdom. GfK tracker research found that 71% of those with an online video subscription service also had a pay-television service.
While integrating Netflix is a potential risk for a pay-television platform provider, Sky clearly believes that it is better to have Netflix inside the tent.