The NAB Show in Las Vegas featured the first 4K relay from space through a live link up with the International Space Station. Notably, it was facilitated by Amazon Web Services, although it still employed a satellite link to a truck at the convention centre. Ultra-high-definition was to be seen throughout the show halls, but it is software as much as hardware that is shaping the transformation of television and video.

NASA astronauts addressed delegates from orbit. International Space Station commander Dr Peggy Whitson and astronaut Jack Fischer spoke with Sam Blackman, the chief executive and co-founder of Elemental, now part of Amazon Web Services.
It came shortly after Dr Whitson spent more cumulative time in space than any other American, passing the previous record of 534 days, with a further five months scheduled in her current mission.
Punctuated by a 10-second delay between questions, the two astronauts passed a spinning weightless microphone between them, as another astronaut could be seen performing somersaults in the background. They also played ping-pong with a bubble of water.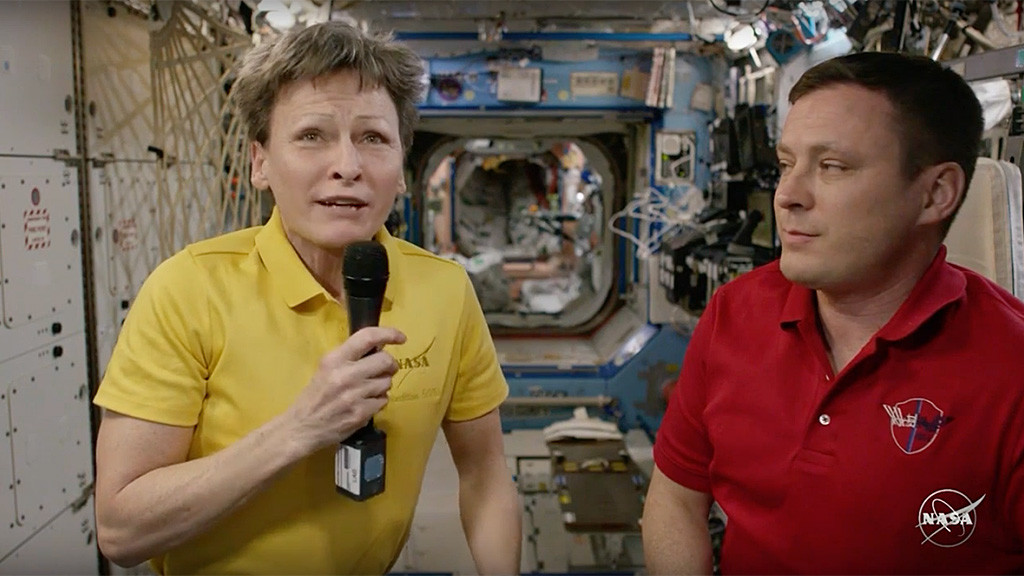 It was notable that the live link-up was facilitated not by a traditional television network but by an Amazon company. Amazon Web Services acquired Elemental Technologies in September 2015 for around $300 million.
Now known as AWS Elemental, it provides video processing and delivering from the network cloud using Amazon Web Services.
The UHD-capable software encoder and a RED Epic Dragon camera were delivered to the station aboard a Japanese cargo craft in December, while a previous RED camera was returned to Earth.
The 4K HEVC compressed stream was sent in UDP through the ISS network to the Johnson Space Center in Houston. Ironically, the stream was then sent via geostationary satellite to a download truck on site at the Las Vegas Convention Centre, where it was shown on 4K projectors.
Elemental Live encoders then provided adaptive bitrate HLS streams to two separate instances of cloud servers, which were distributed using the Amazon CloudFront content delivery network.
Amazon Web Services also had a large stand on the show floor, competing for attention with companies like Ericsson, Harmonic and Cisco.
The NAB Show attracted over 100,000 attendees from over 160 countries to Las Vegas. Promoted with the strapline The M.E.T. Effect, it now covers the convergence of media, entertainment and technology.
Although NAB, the National Association of Broadcasters, continues to promote the interests of radio and television, the show increasingly relates to new forms of digital audio video distribution.
The Broadcast Engineering and Information Technology Conference also recognises the increasing importance of internet protocols in digital media.
Throughout the show there was a sense that internet technology is redefining the production and distribution of television and video.
Companies like Facebook, Amazon, Netflix, Google, Apple and Microsoft may be becoming the new networks, but the importance of traditional channels should not be underestimated, particularly when it comes to mainstays of broadcasting, like news and sports.
In a session on "Rethinking the Television User Experience", Dr William Cooper of informitv presented the Mercury concept interface, combining smart channels and playlists to create a custom viewing experience. It is an example of how the worlds of broadcast and broadband are blending.
If the NAB Show is anything to go by, television is far from dead, it is very much live and is being redefined in every higher definition. NAB may call it The M.E.T. Effect, in the hope that through repetition that will become meaningful. In the future it may become the MET Show.