Canal+ lost 130,000 subscribers in mainland France in the last quarter of 2016, falling to 5.25 million, down by almost half a million in a year. Canal+ now has more international subscribers than it has retail customers in mainland France. Despite international growth for Canal+, its future may depend upon alliances or even mergers to achieve greater scale.

In France, Canal+ has been steadily losing retail subscribers every quarter for two years, falling by 498,000 in 2016 and 316,000 in 2015. Churn in mainland France was 16.7%, up 1.8% on the previous year, while revenue was down by over 6%, or over 7% for Canal+ channels. Canal+ is responding to pressure on profits by cutting costs and repackaging its offer, notably through wholesale distribution deals with Orange and free.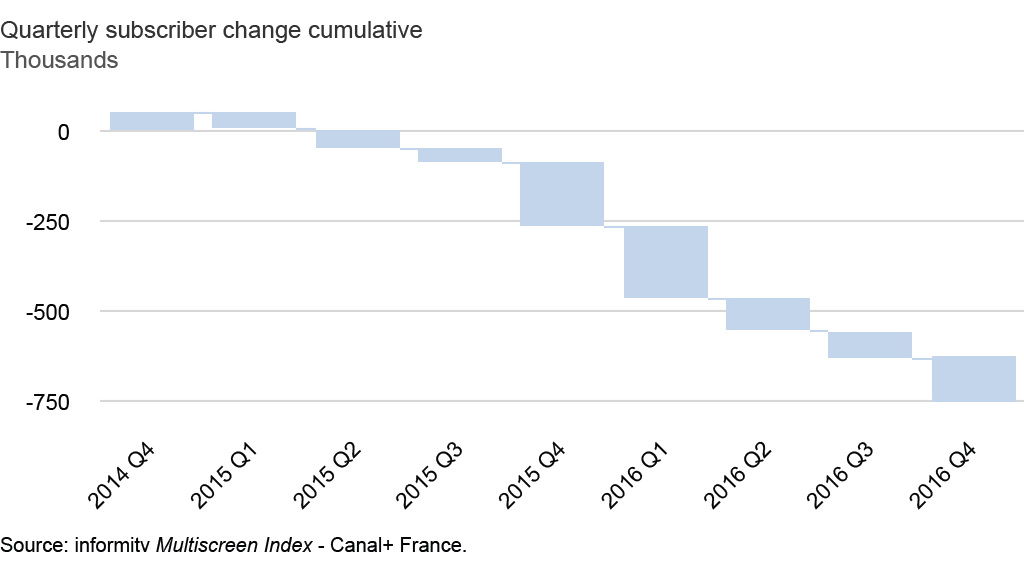 In contrast, Canal+ Africa saw its largest quarterly and annual gains yet, adding 516,000 in the last quarter and 692,000 over the year to end 2016 with 2.77 million, with revenues up by almost 20% year on year, although not enough to compensate for the reduction in France.
In Poland, the subscriber base stabilized and grew for the first time first time since the merger between n and Cyfra+ to form nc+, adding 26,000 customers to end 2016 with 2.12 million, which is exactly the number had a year previously.
Canal+ now has 6.25 million international subscribers in total, an increase of 752,000 year on year.
As a result, Canal+ ended 2016 with 11.50 million retail subscribers, plus a further 2.93 million wholesale customers through with Orange and Free.
For its part, Orange France added 89,000 subscribers in the last quarter of 2016, reaching 6.61 million, up by 186,000 over the year, compared to an increase of 372,000 the previous year.
Overall, including Poland and Spain, Orange has 8.43 million telco and satellite television customers, up by 283,000 in the last quarter.
Vivendi, which owns the Canal+ group, makes much of the synergies between its assets in music, video games, television and cinema. It says it is able to pursue its strategy due to the stability of its largest shareholder, the Bolloré family, which has 29% of the voting rights.
It is still not clear how far this particular media and entertainment combination makes business sense. There may be greater synergy through its distribution partners. This has led to speculation that Orange could become more than a wholesale partner for Canal+.
Speaking to analysts, Vivendi chief executive Arnaud de Puyfontaine, declined to comment on speculation that Orange might buy Canal+ or that Vivendi could take a stake in Orange, saying that the pair had a relationship and that nothing had been ruled out.
Orange chief executive Stephane Richard has said that there were no discussions about taking a stake in Canal+ but they are interested in the possibility of acquiring sports rights with them.
Alternatively, to add to the speculation, one might foresee that Sky, backed by 21st Century Fox, could make a bid for Canal+. With 22.32 million customers in the United Kingdom and Ireland, Germany, Austria and Italy, and a further 11.50 million in France, Poland and some overseas territories, it could become a pan-European proposition with greater economies of scale.