AirTV is a streaming box from a subsidiary of DISH that combines free over-the-air channel reception with Netflix, Sling TV, YouTube, and other apps in the Google Play store, in a single user experience. AirTV addresses a demand for people that want to put together their own alternative to cable or satellite television, but fails to impress in product design.

The 4K Android TV-based AirTV Player is available for $129, including the AirTV Adapter. It is supported by a nationwide antenna installation service, using either indoor or outdoor aerials, sold separately.
"Americans are rediscovering free local, over-the-air TV for sports, shows and news, particularly given how well OTA complements popular streaming platforms like Netflix, Sling TV and YouTube," said Mitch Weinraub, the director of product development for AirTV.
"AirTV Player simplifies what has been a fragmented viewing experience and integrates a customer's entertainment options in one easy-to-navigate app," he said. "AirTV Player is a versatile platform that unites live, local over-the-air channels, Netflix, Sling TV, YouTube and the Google Play Store with the click of a button."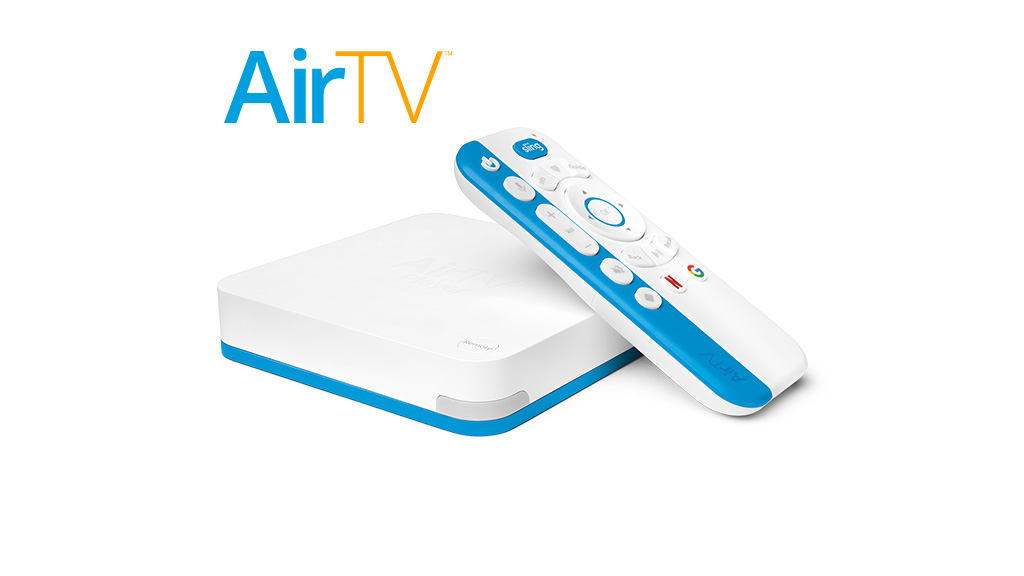 Apps for Netflix, Sling TV and YouTube are pre-installed. The AirTV Player can play 4K programming, available on Netflix and other apps in the Google Play Store.
It comes with a custom remote control that has dedicated buttons for Netflix and Sling TV. It is powered by Bluetooth and features optional voice control.
An antenna can be connected to the AirTV Player through a USB AirTV Adapter. Access to local broadcast channels is integrated into the Sling TV channel guide.
The product itself looks a little like it was designed for children or a care home, although the clinical white and blue seems like an unwise colour scheme for a television device or a remote control in any case.
The AirTV adaptor is a dongle device with a USB plug at one end and an antenna socket at the other. Ideally it would have been better integrated in the AirTV Player box. Air TV promises an integrated solution but ironically it looks like something put together as a prototype by an enthusiast.
Nielsen reports that nearly 14 million households in America watch over-the-air TV and that market has grown 24% over the past four years.
A number of products are emerging to compete for this market, including Mohu AirWave, a digital television antenna that will receive an over-air channel and stream it over a wireless network to various devices, including Apple TV, Roku, Amazon Fire, iOS and Android products and standard web browsers.