EE, now part of BT, has withdrawn the Recordings To Go feature of its television service under legal pressure from broadcasters. It seems that British broadcasters are not happy about the idea of people being able record programmes and transfer them to mobile devices for later viewing, although they allow this through their own platforms.

Originally branded Everything Everywhere, EE was the love child of Deutsche Telekom and the former France Télécom, and was subsequently adopted by British Telecom.
In November 2014, EE brought out a box that it described as the most advanced television service in the United Kingdom, combining the best of live and recorded programming across home televisions, mobiles and tablets for the first time. It was based on the Netgem PVX platform, which stands for personal viewing experience, and supported the HbbTV standard.
One of its key innovations was known as Replay, which allowed users to view the last 24 hours of television from their six favourite channels, presenting shows by genre or channel. Users could also stream live and recorded programming from the box to their iOS or Android phone or tablet.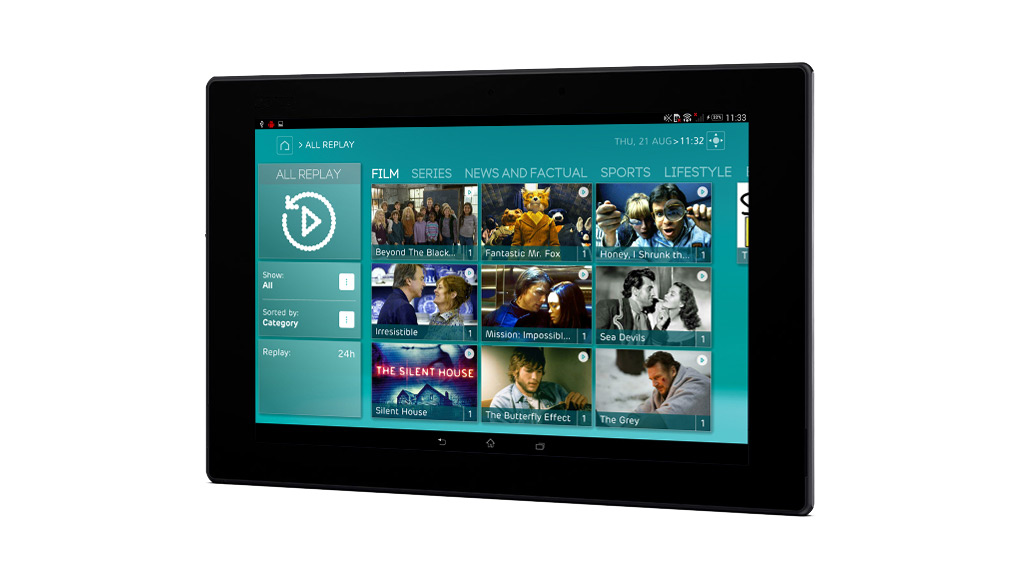 Shortly after it launched, BT entered into exclusive negotiation to acquire EE, mainly for its mobile network. The £12.5 billion deal was finally completed in January 2016.
The future of EE TV seemed uncertain, but BT announced that it would maintain the EE brand alongside its own, allowing further innovation on the platform.
EE launched a Recordings To Go feature in March 2016. This allowed a recording to be transferred to a phone or tablet over Wi-Fi, where it would remain available for viewing anytime or anywhere, until deleted by the user.
At the time, Simeon Bird, responsible for home broadband and television at EE, said: "We're continually looking at ways to offer new, exciting and innovative TV features to our customers and now we've made EE TV truly mobile. With Recordings To Go, we're giving users unique control over how and where they choose to watch TV — whether that's on a train, bus, tube or even a plane."
However, it appears that the main terrestrial broadcasters in the United Kingdom were unhappy with the feature and informed EE that it was an unlicensed use of copyright material and potentially infringed copyright law.
It transpires that the broadcasters were not consulted prior to the launch of the feature.
The broadcasters are all shareholders in YouView, along with others including BT, which uses the platform for its BT TV service. The BBC, ITV, and Channel Four are also shareholders in Freeview, which has developed its own Freeview Play proposition, based on the HbbTV standard.
EE withdrew the Recordings To Go feature in June "following discussions with content rights holders". All references to the feature, including the press release announcing it, were removed from the EE web site.
It seems the commercial broadcasters are not too happy about the TV Replay feature either, fearing that it encourages ad skipping. It is not clear whether they can have any valid legal objection but they might not wish to test any uncertainty and set a precedent.
Meanwhile, Sky launched its next generation Sky Q product in consultation with its broadcaster partners. It is clear where compromises have been made. Users are not able to record entire channels, or even select them as favourites Recordings of some programmes can be transferred to portable devices but there are some notable omissions, such as those from the BBC.
Confusingly, the BBC allows programmes to be downloaded for later viewing through its own iPlayer service, available on iOS and Android devices, as well as laptop and desktop computers.
EE remains a minor player in the television market, although now it is part of BT, which made an annual net profit of £2.59 billion on revenues of £18.91 billion.
No subscriber figures for EE TV have been released, which suggests they may not be much to phone home about. The figure is reported to be 100,000, which seems to be a conveniently round number.
Almost a decade after launch, BT TV has 1.46 million television homes in the United Kingdom. TalkTalk, also a shareholder in YouView, at one point reached more television customers than BT, but subsequently dropped back to 1.37 million.
So while EE TV and its partner Netgem have bravely brought innovation to the television viewing experience, broadcasters have their own interests to protect. After a decade of fiddling with YouView, watching television remains an unnecessarily frustrating experience. Even Sky has not quite cracked it.
Although it is easy to see how the current viewing experience could be improved, the interests of various stakeholders have served to frustrate innovation to protect their own positions.