Satellite television distribution offers the benefits of high bandwidth and broad coverage. Combined with delivery over internet protocols it can enable more flexibility for viewing on different screens. Satellite operators are promoting new approaches to ensure they remain relevant across diverse viewing displays.

Direct to home satellite services have delivered signals to television sets for decades. Now there is increasing demand for multiscreen services that can be viewed on other displays, such as tablets.
One approach is known as SAT>IP. It receives satellite signals and converts them into internet protocol data, using a small server connected to a home network. That could be within a traditional set-top box, a separate converter device, or even be integrated into the antenna. Conventional conditional access can be converted to digital rights management to support encrypted services. This enables high-quality satellite channels to be received on any network-connected device in the home, including smartphones, tablets and laptops.
Eutelsat recently joined the SAT>IP Alliance, founded by SES and others to accelerate the adoption of the approach and push the technology to the consumer market. The European standard is currently supported by 40 hardware and software companies on around 75 different compliant products, but is not widely known.
Announcing its quarterly results, SES reported that the SAT>IP Alliance "is gaining momentum and support across the industry".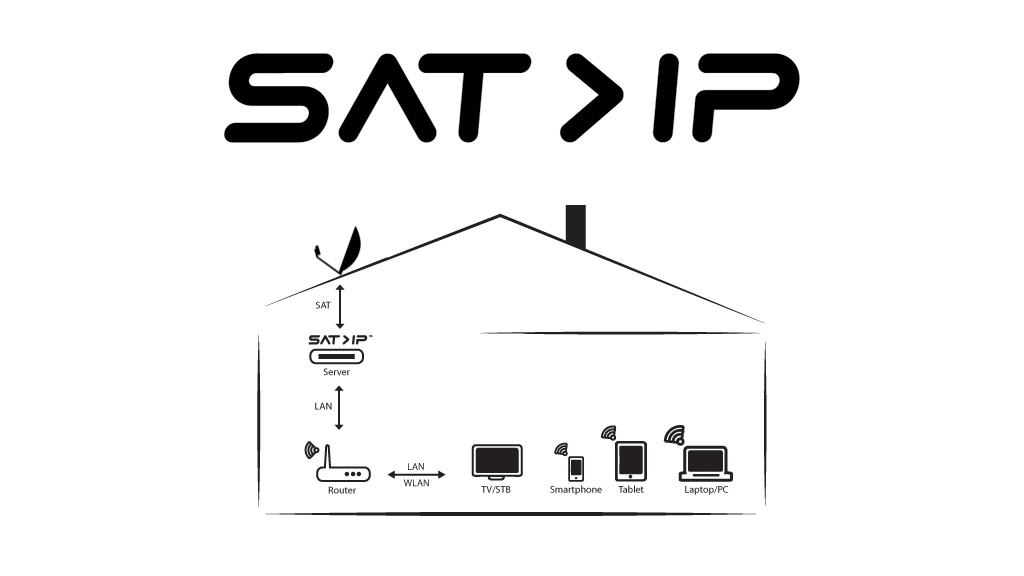 Competing satellite operators Eutelsat and SES have also launched an industry-wide initiative to develop and promote next-generation video technologies, standards and formats, focusing initially on the reception of satellite services on any screen and on converged broadcast-broadband technologies.
The Future Video Initiative will seek to support existing initiatives, alliances, associations, roadmaps and technical standardisation bodies. Its initial scope of work will focus on promoting integrated hybrid broadcast-broadband solutions that increase the reach of HD and Ultra HD with the highest quality, while optimising network costs and meeting the promise of interactive services. It will also facilitate the reception of satellite services on any screen, at home and in public places.
Other new developments include flat panel antennae with SAT>IP capabilities, able to support up to 32 independent receivers over a single network cable connected to a router.
Such innovations can simplify installation and enable distribution throughout a home or business.
Combined with local storage, satellite distribution remains a relatively cost-effective means of distributing programming to very large numbers of users.
This is particularly true of Ultra HD programming, which requires higher data rates.
Over a third of services in the informitv Multiscreen Index of 100 leading services worldwide are wholly or primarily delivered by satellite. They include DIRECTV and Dish Network in the United States, Sky and Tricolor in Europe, and many services in emerging markets. Satellite services account for 45% of subscribers to services in the index.
Sky, which developed the SAT>IP protocol in a joint initiative with SES and Danish software company Craftwork, is expected to announce its next generation platform which will combine broadcast and broadband distribution.
The future of satellite television will increasingly be about hybrid services, combining the strengths of satellite with the flexibility of data networks.
Such approaches are equally applicable to digital terrestrial television and cable. In the longer term, internet protocols may be increasingly used to access video services delivered over various networks.