CBS has launched an online video news network delivering live news broadcasts to connected televisions and other devices. CBSN will have anchored news during weekdays but will also allow users to watch segments on demand. CBS separately confirmed a distribution deal with Sony for its planned online video service, saying that broadband expands the range of opportunities for programme providers like CBS. Meanwhile CBS is also planning to offer some form of standalone online service for Showtime.

"There's a tremendous opportunity on these platforms for a true round-the-clock newscast. We're confident this service will appeal to both traditional news consumers and a whole new set of viewers," said Leslie Moonves, the president and chief executive of CBS Corporation.
CBSN will be available online through its own web site and on key connected TV devices including Amazon and Roku products. It will be available at launch on the CBS News app for Windows, with Android and others before the end of the year. CBSN will be supported by advertising, with Microsoft and Amazon being prominent among the initial sponsors. CBSN is currently available internationally.
"CBSN gives audiences a new window on our original reporting – we'll make it possible to see CBS News anytime, anywhere," said David Rhodes, the president of CBS News. "We are making an important investment in quality news coverage on any device."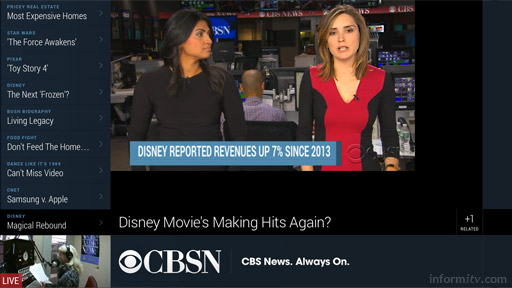 The online news network is based on an hourly format, with live news presented from 9.00 to midnight every weekday at launch. Programming will be drawn from CBS News, CBS affiliates, CNET, CBSSPorts.com, Entertainment Tonight and other sources. The online player adds interactivity, giving viewers the full flexibility within each hour choose which segments to watch and to jump back into live programming.
"We are developing original content exclusively for online, connected platforms in a true interactive format that viewers can control, allowing them to lean back or lean into the segments and stories that interest them," explained Jim Lanzone, the president and chief executive of CBS Interactive.
CBS reported revenues of $3.37 billion for the third quarter of 2014, up 2% on the same period a year previously. This growth was driven by a 4% increase in content licensing and distribution revenues from higher international and domestic licensing of television programming.
In a call with analysts, the chief executive of CBS also confirmed an alliance with the planned online video service from Sony. "As new entrants they will pay us higher subscription fees than we've ever been paid before. So just like telcos came along to compete with cable and satellite, broadband services will help expand the universe of opportunities for companies like CBS that make the best programming."
Following news that HBO is preparing to launch a standalone online video service, he also said that CBS owned Showtime, will offer some form of standalone service.
These and other industry developments point to the increasing importance of online distribution as a supplement to traditional cable, satellite and telco networks. While some see it as the start of the unravelling of the pay-television bundle, corporations like CBS recognise that existing service providers continue to generate massive revenues for them. CBS now generates over a third of its total revenues from licensing and distribution fees.