BT TV gained 38,000 subscribers in the United Kingdom last quarter, taking its total to 1.05 million homes. Sky added 46,000 in the same period, for a total of 10.7 million. BT has partnered with Netflix to allow its customers to sign up for the subscription video service and pay through their telephone bill. TalkTalk is expected to follow suit and with Virgin Media already on board, that leaves Sky alone without a Netflix deal.

The number of BT broadband customers has reached 7.47 million, up from 6.96 million the previous year. Meanwhile the number of active customer lines has fallen from 9.71 million to 9.53 million.
Retail revenue from calls and lines has remained flat at £641 million a quarter, while revenue from broadband and television has risen to £387 million from £330 million the previous year.
Over two years, BT has grown the average annual revenue per broadband customer from around £175 to over £200.
It is not clear to what extent this is due to incremental revenue from television or a mix of higher speed and higher cost broadband packages.
Total consumer revenue was over a billion for the quarter, at £1,056 million up 7% compared the same quarter the previous year, driven by higher broadband and television revenue. Operating profit was £171 million, up from £105 million.
Retail revenues have increased by £269 million a year on the previous year, but it remains doubtful whether this compensates for a billion or more spent on sport.
BT boasted a peak audience of 1.25 million for the opening game of the Premier League between Manchester United and Swansea City on 16 August, although the average audience was 0.82 million, according to BARB audience data. In subsequent weeks the top rated programme on BT Sport ranged between 110,000 and 669,000 viewers, subject to the confidence limits of panel based measurement.
Such modest numbers would not appear to warrant massive investment in sports rights.
Investing in the network is more likely to deliver long-term returns, but also benefits competitors who resell its wholesale services.
BT might be better advised to invest in repairing its reputation for poor customer service, which is as responsible for customer defections as more attractive pricing from competitors.
The deal with Netflix comes as no surprise. BT simply said: "We continue to focus on strengthening our TV proposition and are excited to announce we have entered into a partnership with Netflix that will allow our customers to sign up for Netflix alongside our other products and services, with the added convenience of paying on one bill directly through BT."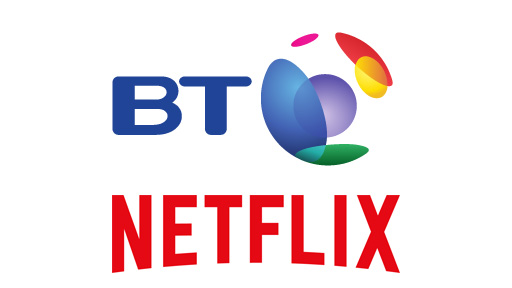 Netflix is already available through Virgin Media and is available free for six months on certain packages. Since November 2013 the Netflix app has been available to TiVo customers, which now number over 2.3 million.
Netflix has been pursuing partnerships with operators, as well as being available direct to consumers. Its recent launches in France and Germany have been supported through deals with operators including Orange and Deutsche Telekom.
Netflix is also expected to be available through TalkTalk, the other broadband service provider partner in YouView.
It is not clear whether the minority of YouView homes that have bought their boxes through retail channels will be able to use access a Netflix app through standalone accounts.
YouView has meanwhile also gained a new look BBC iPlayer and Connected Red Button service.
It will also be interesting to see whether the planned Freeview Connect platform will facilitate integration of third-party services such as Netflix.
Many smart televisions and other connected television devices already offer support for services from Netflix and Amazon.
The key question for free to air broadcasters is whether embracing such services offers a stronger alternative to pay television, or is simply the thin end of the wedge.
In the case of YouView, the broadband service providers are now in the driving seat and apparently happy to welcome Netflix on board.
That leaves Sky as the only pay-television provider in the United Kingdom without a relationship with Netflix.
The informitv Multiscreen Index measures the performance of 100 satellite, cable and telco television and video services worldwide by their current digital subscription numbers. The latest report is available from multiscreenindex.com.
www.bt.com
www.netflix.com
www.youview.com
www.talktalk.com
www.virginmedia.com
www.sky.com