One in three children in the United Kingdom now owns a tablet computer. One in ten children aged three or four has a tablet and six in ten children use a tablet at home. Fewer children now have radios, televisions or games consoles in their bedrooms, the communications regulator Ofcom reports.

The trends are highlighted in the annual Ofcom Children and Parents: Media use and attitudes report.
There has been a rapid rise in the adoption of tablets. Fewer than one in ten homes with children had a tablet at home in 2011. Now around seven out of ten homes with children has one.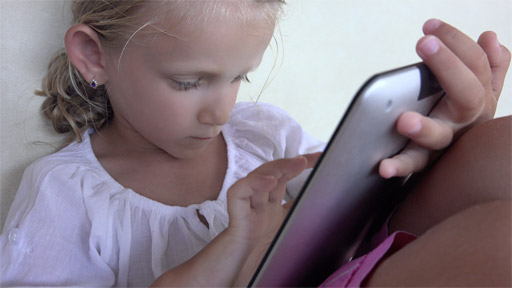 Access to a tablet computer at home has increased from 51% of 5-15 year-olds in 2013 to 71% in 2014. 65% of children aged 3-4 or 5-7 have a tablet at home, rising to 75% among those aged 8-11.
Availability of tablets in the home is highest among children in professional households, with 87% having access to one.
A significant number of children have their own tablet, with the proportion increasing with age: 11% of those aged 3-4, 23% of those aged 5-7, 34% of those added 8-11 and 43% of those aged 12-15.
One in five children watches television on a tablet, while a third use one to watch television on demand.
The television set is still the only media device used almost every day by the majority of children aged 5 to 15. More time is spent watching television than any other media activity, although it has fallen from 15.4 hours to 14.6 hours a week in a year.
Less than half of children now have a television in their bedroom, compared to two thirds of children five years ago.
Only a third of children said that television is the device they would miss most if it were taken away, with around the same number saying it would be a mobile phone or tablet.
55% of those aged 5-7 said they would miss a television the most, falling to 34% among those aged 8-11and 18% of 12-15 year-olds, who were more likely to miss a mobile phone.
Most parents said they would prefer their children to read books, magazines or comics, but watching television was more popular among children, although older children would rather communicate with friends online.
Nine in ten parents whose children go online say they are taking steps to help their children manage risks when using the internet. Eight out of ten supervise their children online and have rules in place about use and access of the internet.
Over half use some technical solution, such as filters provided by internet service providers, passwords or personal identification number codes or parental controls.
The majority of parents feel they know enough to help their child manage online risks, but nearly two third of parents with older children who go online think their children know more about the internet than they do. Around a quarter of parents express concern about the media accessible to their child.
The ParentPort web site, developed by various industry bodies, including Ofcom, provides information for parents. Ofcom also publishes a set of consumer guides to help parents manage the access of their children to digital media.