Market research company GfK is planning to track subscription video on demand viewing in the United Kingdom and the United States, following a pilot study in partnership with BBC Worldwide and other clients. Initial results suggest that online subscription video services are becoming mainstream. The panel-based survey is in response to the lack of viewing data available to video producers and distributors, despite the detailed metrics collected by aggregators like Netflix and Amazon.

The pilot study ran from December 2013 to March 2014 with a panel of over 5,600 homes in the United Kingdom and the United States. Participants kept a weekly diary of all viewing on Netflix and Lovefilm or Amazon Prime Instant Video in the United Kingdom and Netflix, Amazon Prime Instant Video and Hulu Plus in the United States.
It found that subscription video on demand services was available to 22% of adults in the United Kingdom, rising to 34% among those aged 16-34, compared to 37% of adults in the United States, or 46% of those aged 16-34.
The initial research found that, as with traditional pay-television services, people had signed up for subscription video on demand for a variety of reasons, although the ranking of responses was the same in both markets. The main reasons given were access to a catalogue of movies and television series, as well as recent releases, with the ability to watch at any time, and to view multiple episodes in a row.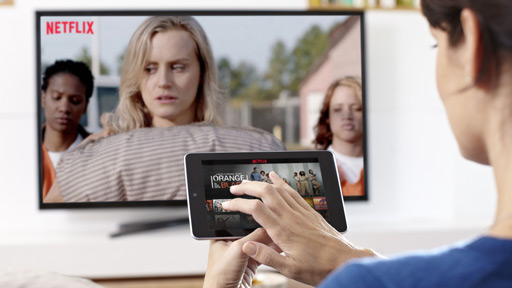 Significantly, the study found that there was a strong overlap with pay-television subscribers. In the United Kingdom 72% of video subscribers also took pay television, compared to 54% generally. In the United States the figures were 81% and 91% respectively.
"These are not people who just want a cheap alternative to pay television," suggested Julia Lamaison of GfK. "They are people who want even more choice." 15% of those surveyed in the United Kingdom had both Netflix and Amazon, further supporting this view.
In terms of programming, drama serials proved particularly popular. Breaking Bad was a clear winner in the United Kingdom, accounting for nearly 12% of all streams. In the United States it came second to the Netflix commissioned remake of House of Cards, which accounted for 4% of all streams. Orange is the New Black was also in the top ten programmes on both sides of the Atlantic, accounting for less than 2% of streams. Subscribers in the United Kingdom were as likely to watch library titles, like 24 or Desperate Housewives.
The research offers an insight into what people are actually watching on these subscription video services, given that Netflix and Amazon are reluctant to reveal any viewing data.
Asked how the viewing of some of these programmes compares to traditional television audiences, Julia Lamaison of GfK suggested that some of the top shows could rate.
While House of Cards may have accounted for 4.6% of all streams across all services in the United States, based on a relatively small sample, it is not clear from the data presented how many of its 35 million or so subscribing homes watched it or for how long. Of course, Netflix knows exactly how many people watch which shows, when they watch and for how long, but they are not saying.
GfK is seeking to combine its broader insights into consumer purchasing, such as the increasing size of screens that people are buying, with more detailed data on viewing behaviour. The company has made a strategic investment in Genius Digital, which specialises in the analysis of real time data collected from viewing devices.