Chromecast is a small wireless streaming media device that plugs into a television and can be controlled from a smartphone, tablet or computer. Available in the United States since mid-2013, it is now also officially on sale in Canada and 11 European countries, including the United Kingdom, where the recommended retail price is £30. The BBC iPlayer already supports Chromecast.

The Chromecast dongle connects to a television through a spare HDMI port, if there is one. In some cases it might be necessary to use the short extender cable supplied. Apart from some HDMI 1.4 ports that can provide sufficient power, it will also need a separate power supply, either using a supplied cable to a spare USB port on the display, or to the mains adapter also provided.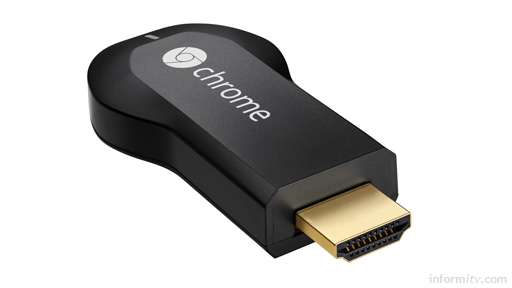 Depending on the configuration, it is a less elegant solution than the device itself might suggest. Other plugin players, like the Roku Streaming Stick, can be powered directly from MHL compatible HDMI connections but also require an adapter for ports that do not provide power.
Dedicated digital media players, like the Apple TV or Roku box, generally provide a parallel experience to the television, with a different interface operated by a remote control.
In contrast, Chromecast does not come with a remote control as it works exclusively with smartphones, tablets or computers on the same wireless network.
The dongle is initially configured by connecting to it directly over it own wireless network and then providing the details of the wireless network to which it will connect. After that, it can be used with certain apps on Android or iOS devices, and using the Chrome web browser on personal computers.
Naturally, it works with Google apps like YouTube and Google Play Music. Support is built into Netflix, Vevo, Pandora, Plex and a number of other apps, including the latest version of the BBC iPlayer apps. Chromecast can also generally display the contents of a Google Chrome browser tab, apart from some media services that use plugins like Microsoft Silverlight.
Chromecast works in a different way to protocols like Airplay or Miracast, which send a compressed stream from a device to the connected display, effectively mirroring the output. Instead, Chromecast simply sends a request to the Chrome player dongle, which receives the media over the wireless network direct from the source service.
Many televisions will automatically switch to the Chromecast input on activation, using the HDMI-CEC features introduced in HDMI 1.3. This is a considerable convenience that avoids the need to manually switch inputs, although that may still be necessary once the Chromecast session is finished.
The original client can continue to control playback, be used for other things, or even switched off, although then it may not be possible to control the media.
Other devices on the same wireless network can also participate, for instance to line up a playlist on YouTube.
When not in use, Chromecast displays a scenic slide show and a clock, generally consuming power even if the television is in standby. There is currently no way of controlling the images. The result is less satisfying than the gorgeous slide shows available through Apple TV.
Chromecast does not allow media stored locally on a device to be sent to the television, but you can use Plex Media Server and the Plex app to access media on a computer or network attached storage device.
On board the device, which is just 72mm long, is a Marvell system on a chip processor, with support for hardware decoding of VP8 and H.264 video. There is 512MB of memory and 2GB of flash storage. The system runs a Chromecast operating system, which has been described as a version of Chrome OS.
As a disruptive device it is more compelling than the first efforts by Google to become part of the television experience. The price point makes it a smart addition to any high-definition television.
Google has opened up Chromecast to developers. Mario Queiroz, responsible for product management for Chromecast, said that in just a few weeks more than 3,000 developers worldwide have signed up to bring their apps and websites to Chromecast.
The BBC has included Chromecast support in the latest version of its iPlayer, in addition to Apple AirPay. In France there is support in FranceTV Pluzz and SFR TV, with CanalPlay coming soon. Watchever in Germany is supported, with Maxdome coming.
In practice, Chromecast works well enough, although as an add-on it is still not completely integrated into the television experience. That could come, if manufacturers were to embed support for second screen intraction into their own devices and displays, but that might undermine their own efforts to offer differentiated smart television interfaces.
Chromecast uses the DIAL protocol, which stands for discovery and launch. This was co-developed by YouTube and Netflix. It is based on Universal Plug and Play or UPnP, which in turn uses the standard HTTP protocol on which the web is based. DIAL is free to use, under licence.
While the Chromecast dongle does not look like a long-term solution, it provides a simple way for consumers to browse media on one screen and view it on a larger display.
That has the potential to change the paradigm of searching for something to watch on television.
This is already happening with apps on phones and tablets that typically provide a superior experience to the traditional electronic programme guide. It is now becoming easier to search for other online video and send it to the television screen.
That is an immediate benefit for broadcasters with services like the BBC iPlayer, but it equally benefits non-broadcast video, like YouTube and Netflix, which will increasingly compete for the attention and viewing time of viewers.