Freesat, which offers free-to-air satellite television in the United Kingdom, is continuing to advance as a hybrid platform. It has launched a companion application for the Apple iPod Touch, iPhone and iPad. It provides a television guide that supports its Freetime service, showing not only programmes that are coming up but also rolling back to cover the previous seven days.

The Freesat app, available for free from the Apple app store, enhances key features of Freetime, the latest generation of user interface available on retail boxes from Humax.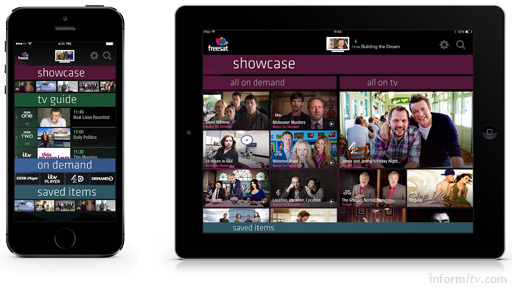 In addition to the usual electronic programme guide, the app allows users to view a Roll Back TV Guide to see the last seven days of television programmes they may have missed.
Many of these are available to view through Freetime boxes, which integrates the online video services of major broadcasters. These on-demand programmes can be launched directly from the app for viewing on the television.
Users can also link the app to their Freetime box to set recordings remotely, or set reminders to view particular programmes. It can also be used as a remote control.
It does not currently seem to offer the facility to edit the channel list or synchronise with a favourites list on the box. The app is currently only available for Apple, but an Android version is surely in development.
Even if users do not have Freesat, they can still use the app to search for and find programmes, including the on-demand services of the BBC, ITV, Channel 4 and Channel 5.
"The new Freesat App is, we believe, a game changer for the free TV market," commented Emma Scott, the managing director of Freesat. "Making this free app available to all UK free TV viewers fits with our core goal at Freesat of opening up fantastic subscription free TV."
Rather than simply being a brand for free satellite television, Freesat is becoming more of a platform, with comparable capabilities to a pay-television service.
Pay-television operators have long offered facilities such as the ability to remotely schedule recordings on a personal video recorder.
Freeview and YouView also have apps and there are many standalone television programme guides.
Freesat clearly needs similar capabilities to compete. With its new Freetime user interface, and the addition of an app for Apple devices, Freesat provides a credible alternative for those that do not want to pay for premium channels.
What is interesting is that Freesat, a joint venture between the BBC and ITV, with executives from both organisations on its board, appears to be developing its platform proposition with little format acknowledgement from the BBC Trust or ITV. It is rarely even overtly mentioned by either organisation, no doubt due to political, regulatory and commercial sensitivities.
Freesat is now being presented as a hybrid satellite service that supports online on demand services. Unlike YouView, which has consumed tens of millions of pounds from shareholders in development and promotion, to reach around 750,000 homes so far, Freesat has established a free-to-air retail platform that is independent of any particular broadband service provider.
Freesat is currently viewed in over 1.8 million homes in the United Kingdom, with over 3.3 million compatible set-top boxes and televisions sold since in launched in 2008. A number of televisions, including models from Samsung and Panasonic, have Freesat compatible receivers but may not necessarily be used to view Freesat services.
Only a minority of Freesat homes will have a Freetime compatible box. They are currently only available from Humax, including a box without a hard drive which is available for under £100.
Meanwhile Freeview terrestrial television still serves the main television screen in over 11 million homes, and the main or secondary screens in over 20 million, or over three quarters of television homes in the United Kingdom.