Bundled subscriptions, including pay television, broadband and fixed-line telephony on a single bill, will reach a third of a billion homes by 2018, an increase of nearly 210 million on the 2013 total. That is the latest forecast from Digital TV Research. Total subscription revenues for so-called triple-play services will rise from $78 billion in 2013 to $144 billion in 2018.
The numbers are in the latest Triple-Play Forecasts report from Digital TV Research.
The forecast suggests that around a fifth of the world's television households will subscribe to triple-play services by 2018, up from just 7% in 2012. China will have 115 million triple-play subscribers by 2018, a third of the global total.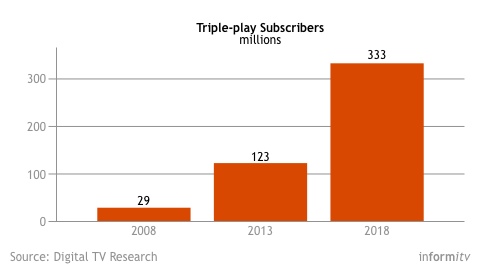 However, the United States will account for over 40% of the world's triple-play revenues by 2018, at $60 billion, up from $30 billion in 2012.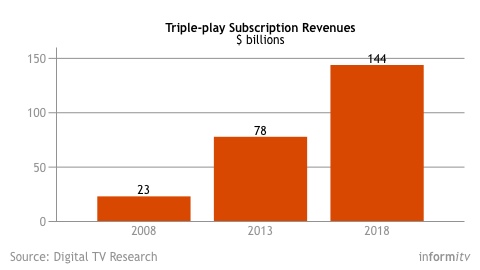 Despite rapid growth in IPTV subscriptions, cable will contribute nearly two-thirds of triple-play subscribers by 2018.
The report suggests that telco and cable operators that are investing in their networks to upgrade their subscribers to receive multiple communications services will reap the rewards of their investment as more an more homes convert to subscription bundles.
Triple-Play Forecasts is available from Digital TV Research. It includes individual forecasts for 97 countries.