ITV, the leading commercial broadcaster in the United Kingdom, is helping people to keep up with their favourite serial dramas online while abroad. Episodes of the very English soap operas Coronation Street and Emmerdale will be available in twelve European countries without ads for up to 30 days, for a 30 day pass or recurring monthly subscription of €5.49.
ITV Essentials is aimed at those either on holiday or living abroad. It is part of the ongoing strategy of ITV to test new business models and deliver content to viewers in new ways and drive new revenue streams by exploiting content across multiple platforms.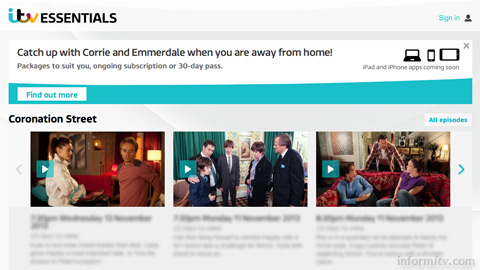 "This is a landmark deal for ITV," said Neale Dennett, the controller of pay and distribution at ITV.
The service is provided in partnership with Saffron Digital, whose president of described it as "an elegant solution to finding ways to reach more soap fans across Europe."
ITV Essentials will be available in Austria, Belgium, France, Greece, Gibraltar, Italy, Luxembourg, Netherlands, Portugal, Slovenia, Slovakia and Spain. Initially it will only be accessible on a desktop or laptop Windows or Mac computer, using Microsoft Silverlight, with iPhone and iPad apps to follow.
Episodes of Coronation Street and Emmerdale will be available from the same time that they are broadcast in Britain, with up to a month to view them.
These two serial dramas are consistently in the top ten rated programmes for ITV, continuing to deliver mass audiences. With viewing habits formed over decades, ITV is presumably keen to ensure that people do not lose the plot when they go abroad.
The Saffron Digital MainStage video platform provides a player with digital rights management, geographic filtering, and payment and subscription management.
In September, Saffron Digital was bought by Cinram, which was itself previously acquired by Najafi Companies, a private investment firm, headed by Jahm Najafi.
Many of those living or holidaying overseas may already keep in touch with the continuing stories of life in England that have been running for forty or fifty years, either through other broadcasters or through a satellite dish.
The interesting thing here is whether people will pay for the convenience of being able to watch on a computer, or the benefit of viewing without adverts. Support for smartphones and tablets seems essential.
ITV Essentials is not available in the United Kingdom, where most ITV programmes are available for free online with advertising. However, there is an ITV Premium app which allows people to watch ITV Player without advertising, for an optional £3.99 as an in application purchase.
As informitv has previously suggested, people may be prepared to pay a premium to watch their favourite shows without advertising. By our calculations, ITV makes around £4.75 a month per television household in the United Kingdom. Some might consider that a small price to pay to avoid adverts, even if they have a digital video recorder and do their best to do so already.
For ITV, which is aiming to reduce its reliance on traditional television spot advertising, it will be an interesting experiment.
If ITV can do this, it raises the question whether the BBC and others could not follow. The BBC has already piloted a global version of the BBC iPlayer on a subscription model, but that featured a 'curated' catalogue of programmes, rather than the full catch-up service available in the United Kingdom. BBC Worldwide recently announced that it would not be extending the initiative and would instead focus on rolling video into its international web site, bbc.com.
www.itv.com
www.itvessentials.co.uk
www.saffrondigital.com
www.cinram.com
najafi.com