Revenues for global online television and video services over fixed broadband networks will rise from nearly $16 billion in 2013 to reach almost $35 billion a year in 2018. While there were around 180 million homes watching online television and video in 2010, that number could rise to over half a billion by 2018, according to a forecast from Digital TV Research.
Advertising has been a key driver for "over the top" television and video services, with revenues rising from $2.4 billion in 2010 to an estimated $7.4 billion in 2013. That is forecast to grow to $16.4 billion in 2018. However, the share of revenue attributable to advertising will fall from over 60% in 2010 to less than half in 2018.
Subscription services will be the fastest growing revenue stream, rising from $1 billion in 2010 to $6 billion in 2013 and up to $13 billion in 2018. The forecast projects that the number of homes paying a monthly fee to receive subscription video-on-demand packages will rise from nearly 68 million by the end of 2013 to over 160 million in 2018.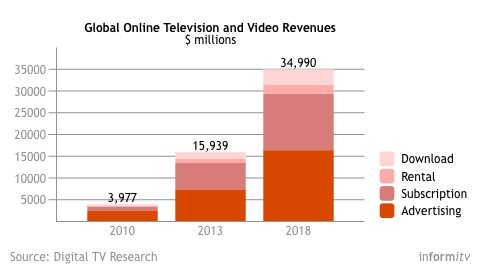 The move to subscription services, popularised by services such as Netflix, will eclipse the pay-per-view or rental market and the download-to-own model, with total revenues forecast to be in the region of $5.6 billion in 2018.
Online TV and Video Forecasts is available from Digital TV Research. It includes profiles of the main content providers and platforms, with 40 country summaries and forecast tables to 2018.