BT TV added 70,000 customers in the last quarter, taking its installed base in the United Kingdom to over 900,000. There were more net additions for BT TV in those three months than the preceding two quarters, or the three quarters before that. BT has added 154,000 television customers over the year, since the launch of YouView and following its massive investment in BT Sport. It remains unclear that the billion pound sporting bet will pay off.
Over the same period, Sky added went from 10.30 million to 10.45 million, also a net addition of some 150,000 subscribers. With an annual churn of 11%, Sky has to sign up a million subscribers a year just to maintain its numbers. The growth of Sky subscriptions has been generally seen as flattening off, whereas BT is seen as ramping up, from a much lower base.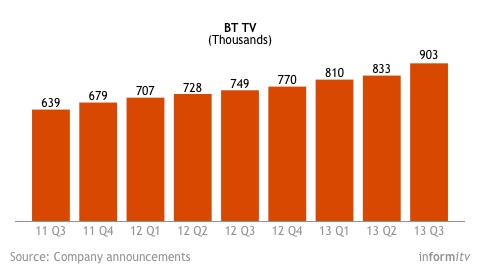 BT is currently playing in a different league. Nevertheless, BT TV is approaching a million television homes, which is the point at which it starts to become a serious proposition. It should be remembered that in 2008 BT was still stating a mid-term goal of reaching two to three million subscribers, which five years later is still some way off.
BT no longer talks about BT Vision, or it seems YouView. It prefers to talk about BT TV and BT Sport.
BT has made a big bet on sport to boost its television offering and maintain its broadband market share. It now claims more than 2 million retail customers for BT Sport, which includes those watching via BT TV, online, through an app, or via satellite.
Gavin Patterson, the chief executive of BT, said: "BT Sport has made a confident start and is already delivering for viewers. More than two million of our customers are signed up to it and our wholesale contract with Virgin Media means it is available to around four million homes in total."
Despite the noise around football coverage it does not generally deliver high ratings. In the week to 20 October, BT Sport 1 reached most of its customers, or just over 2 million viewers, which is about the same number as Cartoon Network. It amounts to a total audience share of 0.2% or 4 minutes per person in the country. Some of the live discussion programmes have been virtually undetectable in BARB ratings.
With many customers viewing BT Sport on Sky and Virgin, and with BT promoting Sky Sports and Sky Movies as a key element of its programming package, it is still far from clear that they will switch broadband providers, let alone pay-television service, in order to get a bundled subscription to BT Sport.
BT added 156,000 retail broadband customers in the last quarter, representing 93% of net broadband additions nationally. This compares to 81,000 added in the same period a year previously, or 166,000 in that quarter the year before. If anything, the sport strategy may be stemming the loss off broadband subscribers rather than attracting new customers.