The Got Talent and The X Factor talent show franchises will for the first time have global YouTube channels to provide a single destination for millions of fans worldwide. The YouTube channels will bring together the best of the clips from each of the local versions of the shows, which collectively reach billions of online video views a year.
FreemantleMedia and co-production partner Syco Entertainment, a joint venture between Simon Cowell and Sony Music, also plan to produce original material for the online channels, from formatted spin-off shows to weekly roundups and playlists of the best and worst auditions.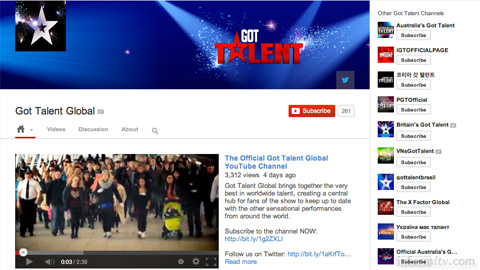 "These formats have national audiences of millions of people who share a passion for talent, and through YouTube we are able to reach them all at once on a global level for the first time," explained Keith Hindle, the chief executive of digital and branded entertainment at FremantleMedia. "The channels present fantastic and unique opportunities for brands to put themselves at the heart of an already engaged and active online global community."
The X Factor has been made in 25 territories, while the 55th local version of Got Talent was recently announced since it launched in 2006.
"The X Factor and Got Talent YouTube channels are amongst the most viewed in the world and by launching both as global franchises we're making it even easier for audiences and brands to engage with our content on a worldwide scale," said Charles Garland, the chief executive of Syco Entertainment.
The original version of The X Factor from the United Kingdom has generated more than 1.7 billion views on YouTube, while the Britain's Got Talent YouTube channel has had more than 1.4 billion views.
In the first nine months of 2013, Freemantle properties generated 4 billion views on YouTube, with nearly 80 million unique users a month, according to comScore Video Metrix.
FreemantleMedia, part of the RTL Group, majoritiy owned by Bertelsmann, will work closely with its 22 production hubs around the world to build and manage the channels.
The launch of the global channels on YouTube marks a major shift in emphasis towards the online video platform for global format owners. Clips were originally shared by viewers and went viral.
The audition by Susan Boyle on Britain's Got Talent ended up attracting more than 100 million views from virtually every country in the world. The producers realised that there is a global audience for clips that are now officially published and provide a massive marketing boost for internationally distributed formats.
While individual clips prove incredibly popular and channels for national shows attract millions of subscribers, the global channels provide a way for the producers to editorially promote particular collections of clips to a wider audience and sell that aggregated audience to advertisers. Whether that is how YouTube users will choose to view them is another matter. How well it will work for broadcast partners is also unclear.
www.freemantlemedia.com
www.youtube.com/xfactorglobal
www.youtube.com/gottalentglobal