The $35 Google Chromecast device promises to open up the connected television world, allowing media to be played back on a large screen from iOS and Android apps and the Chrome browser on Windows and Mac computers. While it has attracted a great deal of media attention, it has its limitations. So could this be the breakthrough device that achieves mass-market adoption?
Google Chromecast is the latest attempt by Google to connect with the television, after the inauspicious launch of Google TV and the abandoned Nexus Q player. It seems the Google team has learnt from that experience and has dispensed with both a set-top box and a remote control to bring out what appears to be a breakthrough product at an attractive price point.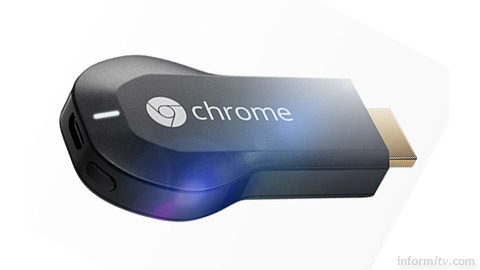 Chromecast introduces both a device, which plugs into a spare HDMI port on a display, and the Google Cast protocol to enable compatible apps to enable and control online media playback on the big screen. Compatible apps on either iOS or Android devices can act as a remote control.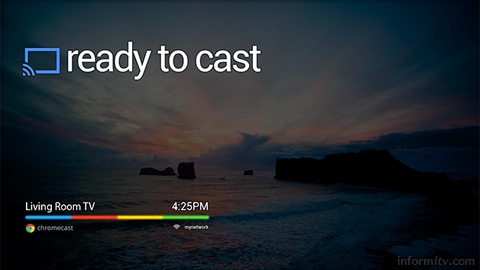 Unlike Apple AirPlay, which allows audio and video to be sent from an Apple device to an Apple TV, Google Cast directs the receiving device to stream media directly from its source, while retaining control over playback. This reduces the burden on the controlling device and preserves battery life. Arguably this is a better approach.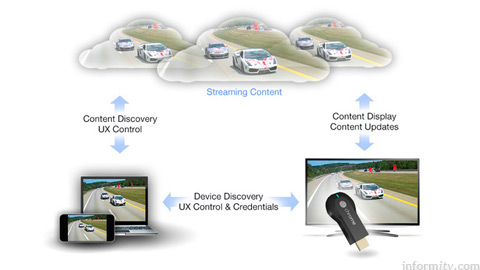 Google Cast competes in some respects with Intel Wireless Display or WiDi and Miracast technologies, which also aim to provide alternatives to AirPlay.
The idea of an HDMI plug-in device is not new. You can buy a fully featured computer running Android or Linux on a stick, but these tend attract enthusiasts rather than the general consumer.
The Google Chromecast device contains a Marvell system-on-a-chip processor, flash storage, memory and an AzureWave Wi-Fi chip.
While a dongle that simply plugs into an HDMI port sounds attractive, there are issues with this. The Chromecast dongle is powered by a micro USB port, rather than the HDMI connection. In some cases it may be possible to receive power through a USB port on the display. Otherwise a separate power supply is required. As a result, depending on the orientation of the HDMI connection, it may not be such a neat solution.
Chromecast has support for YouTube, Netflix and Google Play, but not other services like Hulu Plus, HBO Go, Amazon Prime, or Apple iTunes. It only supports playback of streamed rather than locally stored media, at least without the support of other applications. It can mirror the output of a Chrome browser, but not protected media using plugins like Silverlight.
Google Cast devices support H.264 and VP8 video, MP4, WebM, MPEG-DASH and SmoothStreaming formats, and Widevine and Playready encryption.
So Chromecast offers convenient YouTube and Netflix playback on a big screen, but that is in itself nothing new.
For those within the Apple ecoysystem, the Apple TV still seems to do a lot more, with a quality of experience that remains unsurpassed.
However, Google Cast offers application programming interfaces for iOS and Android apps, as well as for the popular Chrome web browser. Developers will need to get their services whitelisted by Google. Notably, the terms of service requires written permission from Google for compatible applications to be distributed.
Much of the excitement about Google Chromecast has been created by the breakthrough $35 price point. It provides an easy and inexpensive way for consumers to add functionality to an existing high-definition display. At that price people can seriously consider buying several, including one for travelling.
The launch offer included free access to the Netflix streaming service for three months, valued at $24, making it an even more attractive proposition, but the limited promotion was soon dropped "due to overwhelming demand".
The concept of throwing media from a handheld device to a television screen is now firmly established. The Google Cast approach of redirecting a stream from one device to another may be more elegant and extends the possible range of usage scenarios.
More significantly, the Google Cast protocols could be embedded in displays at marginal cost, although whether manufacturers will want to accelerate an end run by Google around their own app portals remains uncertain.
Much will depend on developers including Google Cast support in their apps and ultimately on manufacturers building in support for the protocol. Google Chromecast has the potential to sell in huge numbers, but success is far from certain in this market, as previous attempts have demonstrated.