With the launch of the NOW TV Box, Sky is enabling people to add connected services to their television for less than ten pounds, with no strings attached. The box is similar to a box from Roku, in which Sky is a strategic investor. It looks like a bargain for those that may wish to sample Sky services on an occasional basis, without a long-term commitment.
The NOW TV Box enables viewers in the United Kingdom to access Sky Sports or Sky Movies on their televisions on an occasional basis for a one-off payment of £9.99 including delivery.
It's a compelling price point. It does not require a satellite connection or tie users into a long-term contract.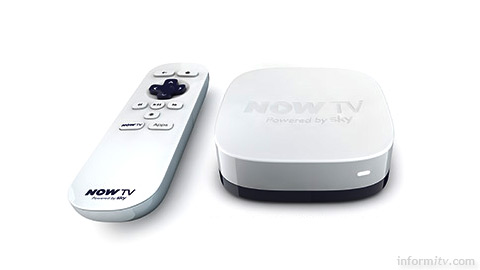 "Now there's an easy and extremely affordable way to make every TV a 'smart TV'," said Gidon Katz, the director of NOW TV, which is a subsidiary brand of BSkyB.
However, the six Sky Sports channels cost £9.99 a day and after thirty-day trial and an introductory three-month period Sky Movies will cost £15 per month.
Not such a bargain in the longer term, but NOW TV may suit occasional users who want to supplement their free-to-air television viewing or sample pay-television services.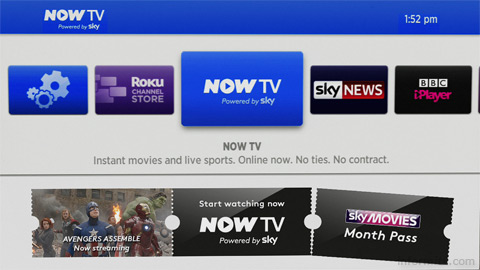 There is also access to Sky News and catch-up television services including the BBC iPlayer. Sky says it hopes to add other services in the future.
The small white NOW TV branded box is similar to the entry-level Roku LT, which has a recommended retail price of £49 .99. It is Wi-Fi only and limited to 720p video output, unlike the Roku 2 XS, which adds a wired network connection and support for 1080p video for £99.99.
BSkyB has a strategic investment of nearly $12 million in Roku, which has had some success with its online video players that compete with the Apple TV, which remains the market leader. Unlike the regular Roku box, it seems the NOW TV box does not promote access to competing services like Netflix or LoveFilm.
NOW TV is aimed at the same market as YouView, namely around half the country which does not subscribe to pay-television. NOW TV currently offers Sky Movies on demand through YouView but not its live sports channels.
NOW TV is also available on Windows or Mac computers, the iPad and iPhone, selected Android devices, Xbox 360 and PS3 games consoles and the retail Roku box.
The NOW TV branded box is clearly a loss leader aimed at attracting and upselling to new customers. Jeremy Darroch, the chief executive of BSkyB, said: "I wouldn't describe it as a YouView killer but it allows us to target that part of the market." He said the box is subsidised — "we take a small hit when we sell it" — but that it would only take two or three transactions through the box to break even.
So far there has been little evidence that Sky is cannibalising its existing subscriber base with the NOW TV proposition, although it does not break out these figures in its financial reports.
Sky faces increasing competition on all fronts and the low-cost NOW TV box provides an answer to other providers that are bundling boxes with their broadband services.