Magine is new cloud-based television service from a start-up company that imagines television as it should be, if it were invented today. Other companies like Intel are also exploring the virtual cable operator model, but this is a case of going entirely outside the set-top box, using only apps to deliver the user experience across various devices and displays. Magine is available live and on-demand, on mobile phones, tablets, computers and smart televisions, but currently only to trial users in Sweden. A full launch is planned shortly, extending to a number of other European countries during 2013.
Now emerging from a limited beta test, Magine is launching what it calls its 1st Edition. It will open up in stages to more users, starting with those who have already registered their interest. After a 30-day trial period, users will still be able to receive a number of free channels or pay around €12 a month to receive around 30 channels.
The aim is to provide catch-up programming to allow users to scroll back in time. That is currently restricted by rights agreements, but Magine is optimistic that will change to allow users to watch programmes up to a week after they air.
Since the apps all connect in the cloud, a smart phone or tablet can be used to control the app on a smart television, in addition to a traditional remote control.
"Magine 1st Edition is a big step for us towards our goal of offering television as it should be, freely available on all platforms," said its chief executive, Erik Wikström, who has spent the last twenty years in the media, internet and venture capital industries and is now trying to reinvent television. "We are very pleased to now be able to provide our users with new features and a full 30 channels covering topics including entertainment, movies, series, documentaries, sports and children's programs."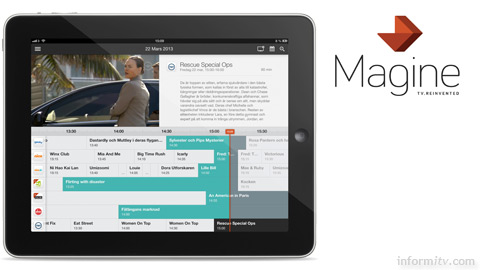 While Swedish networks such as public broadcaster SVT and the commercial channel TV4 already offer online catch-up services, an integrated service with the option to add a limited number of premium channels could be a compelling proposition.
Some might imagine that this is what Youview in the United Kingdom could have been if it had thought outside the conventional set-top box. This is really what TV Everywhere should look like, although the complex structure of the television industry in the United States makes that challenging. In Europe it might be a more feasible proposition.
Magine aims to work with broadcasters and premium programming providers, like any other distribution platform. It is a path that others like Zattoo and Livestation have pioneered in the past, but advances in online delivery and the availability of more advanced devices may mean that the time has come for this service model.
There are many advantages to dispensing with the box, not least lower start-up costs and no need to lock customers into long subscriptions to subsidise hardware. Instead, Magine will rely on apps in devices and displays that people already buy and own.