London-based Monterosa Productions has announced the commercial launch of its LViS tools for creating second-screen applications for television. Having supported over a thousand hours of primetime programming with second-screen services, Monterosa has already used its framework to deliver a range of sports, entertainment and advertising applications.
"Almost everyone watches TV, so audiences are diverse. To achieve scale, you can't rely on those people being users of a particular device, social network or existing app," observes Simon Brickle, the managing director of Monterosa. LViS can reach a range of targets, from Facebook to mobile apps.
The LVis platform includes a suite of re-usable elements to power interactive experiences, such as play-along gaming, prediction gaming, secure and compliant voting and competitions, opinion polling, advertising and coupons.
It allows broadcasters, producers or brands to customise template apps, or make their own from scratch, and deploy the resulting HTML5 experience across multiple platforms. It also integrates with industry standard systems to drive on-screen graphics.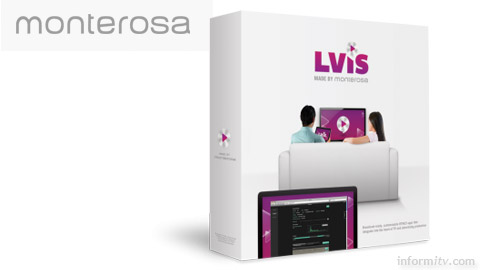 Tom McDonnell, the commercial director and co-founder of Monterosa, said: "Most of what is currently available through automated second-screen apps is underwhelming to audiences, so LViS Studio is making it possible for TV creatives to make the second screen as high quality as the first."
Monterosa has worked with the BBC, ITV, Channel 4 and Sky in the United Kingdom, major independent producers Endemol, Shine and Fremantle, and advertising agencies and brands.
The Monterosa developed app for Million Pound Drop received over a million downloads in 2012. More than five million people have played the game on mobile and online over the lifetime of the format.
For those that have been involved in interactive television for many years, it seems that second-screen platforms are addressing many of the same challenges. However, what has changed is that web technologies now enable programme producers to reach a much wider audience on multiple devices with interactive services that are easier to develop and integrate.