Zeebox is launching its viewing companion application in the United States in partnership with Comcast Cable, NBCUniversal and HBO. It enables users to find programmes through enhanced listings with personalised social recommendations and promises to enhance viewing with further contextually relevant information about programmes. Comcast Cable and NBCUniversal are backing zeebox as strategic launch partners with investments and promotional support. They are preparing to enhance hundreds of their top television shows such as The Voice using zeebox.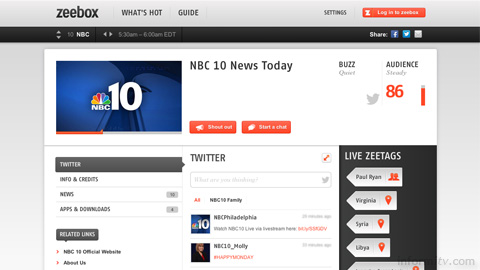 "As the Olympics demonstrated, the second screen experience has become an increasingly important platform to engage audiences," said Steve Burke, the chief executive of NBCUniversal, in which Comcast owns a 51% controlling interest. "We think the zeebox technology presents tremendous opportunities for our viewers and our advertisers."
HBO will bringing its highly acclaimed and award-winning programming such as Boardwalk Empire and True Blood to the social discovery platform as well as originals like Strike Back from sister network Cinemax. HBO is the premium programming subsidiary of Time Warner and it the most successful pay-television network in the world.
"Our audiences have demonstrated a clear commitment to connecting with HBO and Cinemax programming on a deeper level," said Eric Kessler, the co-president of HBO. He said: "zeebox offers a unique, comprehensive platform that drives discovery, engagement and conversation around our most beloved programs and stars."
This level of commitment to a platform created in the United Kingdom is a considerable coup for zeebox, which competes with American offerings such as
GetGlue, Miso and IntoNow, as well as British company Shazam.
It follows a joint venture with the Ten Network in Australia and the multimillion pound strategic investment taken by Sky in the startup company, co-founded by former EMI executive Ernesto Schmitt and Anthony Rose, who led the successful relaunch of the BBC iPlayer.
"We are proud to launch with this game-changing roster of partners who recognize the importance of fully meeting web-empowered consumer expectations," said Schmitt, the chief executive of zeebox. "As consumers continue to flock to social media and the web to experience a program beyond what is on the screen, zeebox gives content owners and programmers a direct line of communication, feedback and engagement that has never before been possible."
"All of television can change, become social and interactive," Anthony Rose said in an interview on CNBC. He described it as a new renaissance for television.
"The real opportunity is to deliver synchronised advertising. TV advertising is a $70 billion industry in the US," added Schmidt. "It's a huge opportunity." He said he saw the potential for tens of millions of users.
In the past year, the market for second-screen television apps has been evolving rapidly but remains highly fragmented, with various apps and web services offering programme discovery, social engagement and interactivity. Bringing together these features into a single app, zeebox aims to promote increased viewership by making the live television experience more compelling.
The zeebox OpenBox application programming interface allows rights holders to enhance their shows and channels on the zeebox app in a matter of hours, distributing exclusive content to consumers, connecting directly with fans through live interactions and social engagement and monetizing the second screen alongside television commercials through synchronized, targeted, relevant advertising and affiliate links.
In the United Kingdom, Sky has integrated zeebox functionality in its own Sky+ app, with context relevant zeetags, web links and Twitter tweets, but without any indications of the audience size.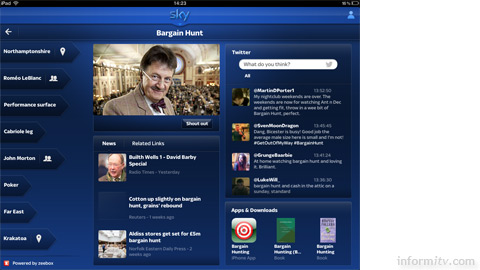 At launch in the United States, zeebox provides a comprehensive seven-day programme guide for the major television channels, enabling customised channel line-ups and setting reminders for shows. It integrates with Facebook and Twitter to enable social discovery and conversation with friends and celebrities. It provides information about shows, people, topics and products mentioned on television, synchronised with the broadcast, with links to relevant digital and physical products.
The zeebox App is available free of charge on the Apple app store for the iPhone, iPod Touch and iPad, and the Google Play store for Android devices, with a web version available online.