More than three quarters of YouView boxes sold so far in the United Kingdom have been used to view on-demand programming for more than three minutes per session. That is the underwhelming claim for a platform that has so far cost tens of millions of pounds to develop and is now kicking off with a ten million pound advertising campaign. Sky is responding with a box with a two terabyte hard drive that can store over 350 hours of high-definition programming and its own On Demand offering.
Sef Tuma form Accenture, who is the technical delivery lead for YouView, said that more than 75% of an unstated number of boxes sold so far have been used to view on-demand content for at least three minutes a session, a figure that the industry magazine Broadcast originally incorrectly quoted as three minutes a week. It quoted him as saying: "That is the impact a transformational product should have on user habits and we expect to see that figure grow over time".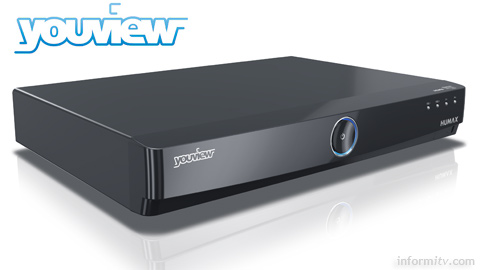 The integration of catch-up television is the main selling proposition for YouView. If three-quarters of boxes have viewed at least three minutes a session this implies that almost a quarter of homes that have invested in a YouView box have used its main feature for less than that.
Usage of three minutes a session per household is hardly a strong claim, given an an average television viewing time per individual of over 26 hours a week.
Such a low level of usage suggests that users are simply sampling what is available. Disturbingly it implies that they are not actually watching entire programmes on demand. This is hardly "transformational".
These users are the first to purchase YouView boxes, before it has been widely promoted. They are therefore by definition early adopters and presumably already aware of the YouView proposition.
This does not bode particularly well for the potential usage of those that receive free boxes bundled with their broadband subscription. If the experience of BT Vision is anything to go by, they will use video on demand less than their service provider might imagine and pay for programmes even less than they might hope.
YouView also provides a decent digital video recorder, which is a reasonable substitute for a lot of catch-up programming. We are not told how much people are using this, if it is known, but we suspect it is more than three minutes a session.
Figures for 2011 from BARB reported by Ofcom indicate that almost every other home in the United Kingdom already has a digital video recorder and they watch timeshifted programmes an average of 112 minutes a week on the same day as the live transmission and around 126 minutes a week within a week of broadcast. That is a total of nearly four hours a week or 15% of viewing being timeshifted. That includes catchup viewing via video on demand services.
BARB does not report viewing of programmes more than a week after transmission, which reinforces an industry perception that most timeshifted viewing is still driven by the television schedule. That is undoubtedly true for episodic programming that is highly topical, but many people may also build up archives of programmes for later viewing, even if only to be eventually overwritten because they do not have time to view them.
The Humax YouView comes with a 500GB hard drive as standard. That is enough to store 125 hours of high-definition programming, or over a month of viewing for the average person.
Sky has responded with a Sky+ HD box with 2TB of storage, enough for 350 hours of high-definition programming, or more than two weeks of continuous viewing. Clearly the assumption is that some people will wish to store a lot more than a few hours a week. Sky points out that last month alone, its 10.2 million customers, of whom 4.3 million have Sky+HD, generated more than 1.2 billion sessions of time-shifted viewing.
Sky is also adding 7-day catch up to its on-demand service available over broadband. With its Anytime+ service now renamed On Demand, it currently has a limited offering from ITV and Channel 5, together with some Sky programmes, but plans to add programming from the BBC in the autumn and Channel 4 in early 2013.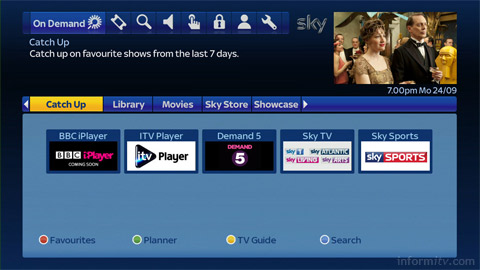 The Sky user interface may appear rather basic compared to the latest generation of boxes from YouView and Freesat, but it is functional and familiar to millions of users.
Seen in this context, YouView has a lot of catching up to do. The YouView brand is only now being promoted to consumers. The message of the £10 million campaign is already muddled, with the strapline "Extraordinary TV for everyone". The television spots are supported by print, outdoor and online advertisements. As much as anything, they will have to persuade people of the possibilities of catching up on programmes they may have missed as the benefits of YouView over other available options.