The consumer advertising campaign for YouView has begun, with television spots promoting the platform as "Extraordinary TV for everyone" — whatever that means. The main benefit promoted is that it is the easiest way to catch up on programmes by simply scrolling back up to seven days through its electronic programme guide. Will this be enough to position YouView as a compelling proposition?
The television campaign began in peak time on Saturday night, with a commercial featuring images of programmes from its broadcast partners apparently projected onto urban evening streetscapes, ending on a rather austere mansion block. It is far from aspirational. The message seems to be that if you live somewhere like this then YouView is for you.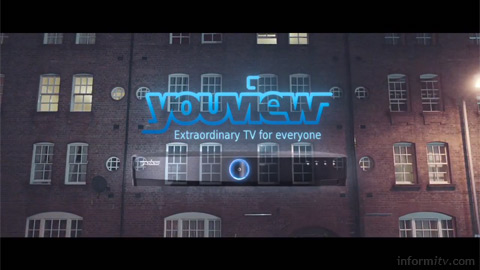 "Something extraordinary is happening to TV," claims the voice over. "YouView is the easiest way to watch catchup TV on your TV — Simply scroll back through the past week. 7-day catch up, subscription free, all in one box. YouView — Extraordinary TV for everyone."
The spot created by agency Adam & Eve DDB, features the logos of the online players from its broadcast partners, the BBC, ITV, Channel 4 and 5, but there is no reference to its broadband partners, BT or TalkTalk, and needless to say no mention of transmission company Arqiva, since no-one seems to know quite why they are involved and most viewers have never heard of them.
The problem with using characters from leading shows promoted by the broadcasters, including the Daleks from Doctor Who, is that people are already familiar with television. That is not the proposition. The selling point is the integration of catch up television, although that is no longer unique.
There is no call to action, or even information about where to get a box or find out more, not even a web address. This may be all about brand awareness but it does not look like a campaign that will get people talking.
"The last couple of months have proven to be very positive for YouView, following our announcement of the product back in July," said Lord Sugar, the chairman of YouView, according to the press release. "We are now available in multiple retail outlets nationwide and are looking forward to offering this simple-to-use box to customers through BT and TalkTalk, further supporting our desire to provide extraordinary TV for everyone."
Quite how promote YouView, with its may stakeholders, is another matter. It would be a perfect task for The Apprentice. Imagine the briefing scene, with the two teams, Infinity and TalkTalk, glancing across at each other anxiously…
"Your task is to promote YouView as what they call in the trade a television platform. Quite simply, you have to sell, or give away, as many of these boxes as possible. The problem is, most people have already got a television, so you'll have to convince them that your box of tricks will somehow make their television better, so long as they sign up to your broadband. And the team that has the smallest number of boxes left at the end is the winner. The other team will have some explaining to do in the boardroom."
BT has decided to "give away" its boxes to new Infinity broadband customers, in those areas where it is available. The box will be free, although subject to a £49 "activation" charge and £6.95 delivery fee and twelve month minimum broadband subscription, which starts at £18 a month plus £10.75 line rental, which works out to a total commitment of around &400. YouView from BT will also be available with all BT television and broadband subscribers. Existing customers that are out of contract will be able to upgrade for £49.
TalkTalk is also offering a "free" YouView box to its TalkTalk Plus customers, providing they pay a £20 "activation" charge and sign up to a minimum 18 month broadband contract for £14.50 a month plus £9.50 a month line rental, a total commitment of £452. On the face of it, the BT option looks like a slightly better offer in the short term.
People will still be able to buy a YouView box from Humax online or in the shops for an already discounted price of £279, and connect it to their existing broadband service. However, they may be more likely to consider switching broadband service providers in order to get a "free" YouView box.
This raises the interesting question, will BT and TalkTalk grow their broadband market share by persuading previously unconnected customers of the benefits of YouView, which so far seems unlikely, or will they take market share from elsewhere, including their partners in the platform? How many of their combined ten million customers will be persuaded to take YouView, even if it is presented as being free?