Freesat has launched a new electronic programme guide for a new range of broadband-connectable satellite boxes.The <free time> guide it offers many of the features offered by YouView, including the facility to catch up on programmes from the previous seven days through integration with the BBC iPlayer and ITV Player, with services from Channel Four and Five coming before Christmas. Freesat is a joint venture between the BBC and ITV, both of which are also partners in YouView. On the basis of a first-hand demonstration at the media launch in London, informitv was impressed, particularly since it seems to have been developed at a fraction of the cost of YouView.
The next-generation Freesat guide has been developed in less than eighteen months, since YouView was first announced.
While the recent media launch of YouView was a rather defensive affair, the press preview of the next generation Freesat box appeared altogether more confident.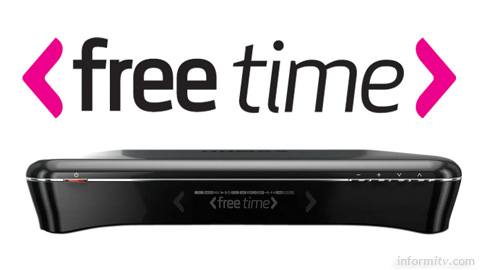 The first of the next generation Freesat+ boxes with <free time> is from Humax, which is also producing the retail box for YouView. The Freesat version will be a little less expensive, priced at £279, with a £10 discount for pre-orders. It comes with 1 gigabyte of memory and 500 gigabytes of hard disk storage, with a terabyte version as an option. As with the Humax YouView box, it does not come with WiFi built in. Boxes from Sagemcom, Philips and Manhattan are expected to follow.
The <free time> system is based on widely adopted European open standards, including elements of OIPF, HbbTV, MHEG5 and HTML5. The HTML user interface appeared smooth and responsive. A companion app for smartphones and tablets to provide remote control and remote record features will be available in the future.
The new <free time&gt guide, designed by the agency Possible, is as intuitive as the recently launched YouView offering, if not more so. One innovation is a Now and Next view that shows a simple list of current and following programmes on channels, irrespective of their start times.
The backward guide provides a similar function to that promoted by YouView. It offers convenient access to previously transmitted programmes in the form of a list by channel of those that are available on demand. These are then launched in the online player of the respective broadcaster.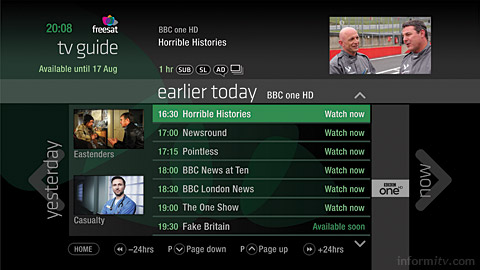 There is currently no form of recommendation based on viewing behaviour, although this could be presumably be added. There is a showcase feature providing promotion for editorially selected programmes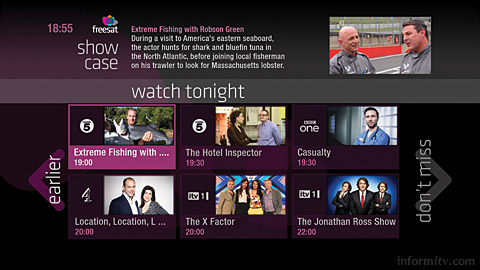 Although nothing has been announced or confirmed, it seems likely that commercial video on demand services from the likes of Netflix and LoveFilm could appear on the box in the future. It would be interesting to see if that will also include the NOW TV brand powered by Sky.
While the addition of subscription or pay-per-view services may undermine the proposition that Freesat is free once you have bought the box, they may go some way to satisfying those that may object to pay-television in principle but are willing to pay for the occasional movie or box set in practice.
"TV is a simple pleasure that technology can make even better, not more complicated," said Emma Scott, the managing director of Freesat. "Our new boxes with <free time> give satellite viewers everything they get with freesat today and so much more in a single, simple and easy to use on screen guide."
The <free time&gt sub-brand adds to the lexicon of Freeview, Freesat and YouView. One might imagine that it could even be applied to future Freeview terrestrial services. Where that leaves YouView is another matter. It certainly makes the YouView proposition harder to position.
It seems extraordinary that the BBC and ITV are currently backing Freeview, Freesat and YouView, to compete in the market, each with broadly similar but different standards and specifications and each with a slightly different strategic objective.
Freesat offers a competitive alternative to Sky for those satisfied with around 150 free-to-air television and radio channels available without subscription. It provides a tempting proposition to the million or so homes that churn out of Sky every year, particularly in a time of economic recession.
Over 2.5 million Freesat devices have been sold in the United Kingdom since it launched in May 2008, although that includes screens with the facility built in that may be connected to other services.
There are an estimated 14 million homes in the United Kingdom with a satellite dish. 10.28 million of them are Sky homes.