TV, TV on the wall, who has the smartest screen of all? The New Year resolution for television displays is to be thinner, more attractive and smarter than ever. If the CES trade show in Las Vegas is anything to go by, televisions on sale this year will be more intelligent and better connected, with some new models able to react to voices and gestures. Competition in the television display market is fierce, as highlighted in this roundup of the latest innovations from the major manufacturers.
Samsung
The manufacturer with the largest market share, Samsung, showed a 55-inch display based on OLED technology using light-emitting red green and blue elements. The display will be available worldwide in 2012.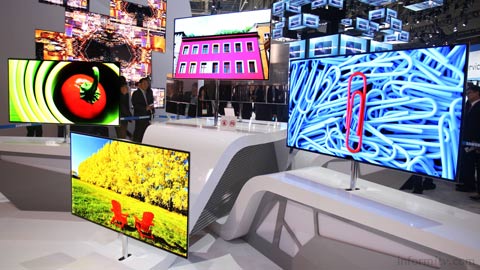 With 1,400 apps available and nearly 20 million downloaded to date, the Samsung Apps platform may not be as popular as that of Apple, but it is growing rapidly, with casual games like Angry Birds joining video-based apps from ESPN, Hulu Plus, MLB, MTV, NBA, NHL and others. Samsung has redesigned its Smart Hub user interface, which now offers full high definition and multitasking.
Users will be able to navigate using multilingual voice control, motion control and face recognition, as well as with optional wireless keyboards and mice. Users simply have to say something like "Hi TV" to turn on voice control, and then "web browser" to go online. Thanks to a built-in high-definition camera they can simply point their hand to raise the volume.
Certain Samsung displays released in 2012 will also be upgradable, so that consumers can continue to take advantage of new innovations by installing slot-in "evolution" kits.
Samsung also showed a line of Blu-ray disc players with a feature they are calling Disc to Digital, based on UltraViolet. Users can register their ownership of physical DVDs and then view the same material on a variety of devices. Another innovation is the addition of two HDMI inputs, allowing other devices to be looped through.
Samsung plans to offer customers of DIRECTV, which has nearly 20 million subscribers, the ability to watch live and recorded programming from a compatible digital video recorder on the latest Samsung Smart TVs without the need for additional set-top boxes. Previously announced at the 2011 CES, the Remote User Interface technology, using the RVU protocol, based on industry standards such as DLNA, will enable a complete multi-room experience across all the connected televisions in the home through a single set-top box.
Samsung is also exploiting its ecosystem of devices, from smartphones to refrigerators.
Samsung remains coy in its collaboration with Google TV, continuing to develop, demonstrate and deploy its own offering, but promising "by combining the strengths and experiences of each company, a forthcoming offering will deliver an entirely distinct experience in the category."
"The TV is the heart of our homes, and is the central device that connects our family at the end of a long day," said Boo-Keun Yoon, the president and head of the consumer electronics division at Samsung Electronics. "For Samsung, this means providing the future of Smart TV now — through new TVs that recognize and respond to you, connect your family in and out of the home, and offer amazing new content options personalized to your lifestyle and needs."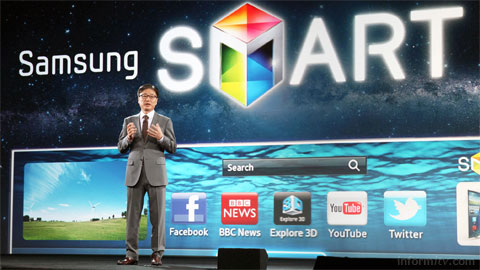 LG
LG Electronics is aiming to become the leader in the global 3DTV market, but emphasised the internet connectivity in its products.
LG also previewed a 55-inch OLED display, just 4mm thick with a 1mm bezel, which stole the show.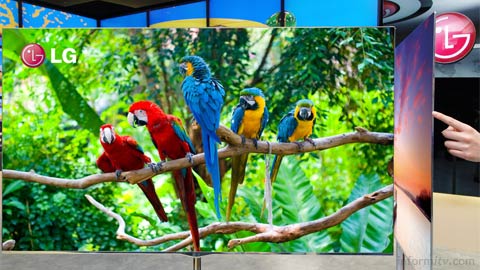 LG also aims to become the first to launch an 84-inch ultra-definition television, with a 3840×2160 resolution four times that of current displays. Naturally it is also 3D compatible.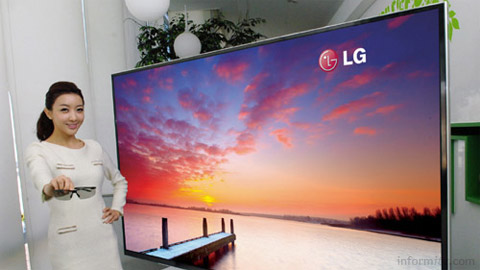 LG has a new Magic Remote with four control modes — voice recognition, scroll wheel, magic gesture and pointing — as well as a full keyboard, all designed to facilitate easier, more natural navigation and browsing.
While continuing to develop its own Smart TV platform, NetCast, which will be available in more than 60% of it new flat panel models. LG has come out in support of Google TV, combining the Android operating system with its own technologies.
"The 3D and Smart TV revolution is just beginning and LG is committed to convincing consumers the world over that these technologies are the future, not just a fad," said Havis Kwon, the president and chief executive of the LG Electronics Home Entertainment Company. "The features and functionality we'll be introducing in 2012 are, I believe, second to none when it comes to showing consumers how a Smart TV can improve their TV viewing experience."
"Through Google TV, LG has merged Google's established Android operating system with LG's proven 3D and Smart TV technologies, offering consumers a new and enthralling TV experience."
Sony
Once the leading television brand, Sony has been struggling in the face of competition from the South Korean companies. It is hoping that the convergence of products, content and network services will combine to create a new user experience.
Sony has continued its commitment to the Google TV platform, albeit only with companion products, a new Blu-ray disc player and a new network media player, which will also link seamlessly to certain new models of display for easier user of Google TV features.
The new Blu-ray disc player, powered by Google TV, will include voice and gesture control with an improved full keyboard. It will be available from the summer of 2012. The new network media player will be available in the spring.
Panasonic
Also overshadowed by the emergence of the South Korean companies, Panasonic is continuing to develop the Smart Viera network functions in its latest line of displays.
Panasonic also previewed a prototype of the world's smallest ultra-definition display, a 3.5mm thin, 20-inch diagonal, 3840×2160 resolution LCD panel, demonstrating increasing pixel densities, in this case 216 pixels per inch. Panasonic showed a 150-inch 4096×2160 plasma display at CES back in 2008.
Sharp
Not to be outdone, Sharp also showed a 4K display that can upscale from high-definition to four times that resolution. If that is not enough, Sharp had a demonstration of an 85-inch 8K display with a resolution of 7680×4320, equivalent to 16 times that of high definition. Needless to say, there is not a lot of material available at that resolution, or currently any practical means to deliver it to the home, but now doubt that will come.
The Sharp answer to smart television is known as SmartCentral. One of its features is Beamzit, a free media-sharing app that allows users to send photos, music and video wirelessly to a Sharp Aquous Wi-Fi enabled television from their IOS or Android smart phone or tablet.
Vizio
American brand Vizio, is a relative newcomer to the television market, founded in 2002. Vizio previewed a network media player with a Bluetooth remote control with touchpad, based on the Google TV platform.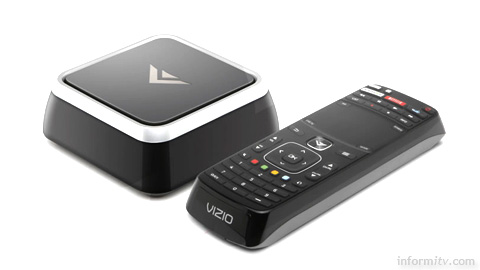 However, Vizio continues to promote its own Internet Apps platform for its latest 58-inch 21:9 panoramic format CinemaWide display with a resolution of 2560×1080.
Lenovo
Lenovo, best known for computers since acquiring the personal computer business of IBM in 2005, showed its K91 Smart TV, a 55-inch display initially aimed at the Chinese market. This runs a skinned version of Android 4.0, otherwise known as Ice Cream Sandwich, rather than Google TV. It also has an integrated webcam for facial recognition, a remote control with a built-in microphone for voice control, as well as a gyro sensor and accelerometer for gesture control.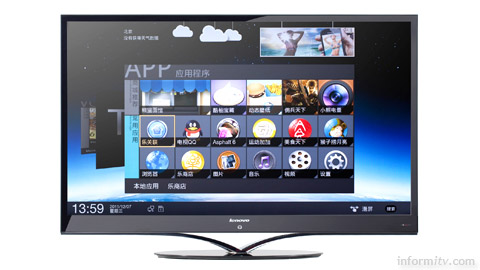 Google TV
The Google TV platform otherwise once again failed to put in much of an appearance at CES this year, as the major manufacturers all continue to push their own proprietary application environments, albeit in many cases based on open standards.
Notably, the cloud gaming service OnLive will apparently be coming to Google TV. Initially users will only be able to watch and use OnLive social features, but the company says it is working closely with Google to enable full gameplay with OnLive gamers from around the world, although we will have to wait and see how that works out.
The elephant in the room was surely Apple, which is widely expected to bring out a television display before long, which will no doubt disrupt the market. The core technologies to transform the television set — voice and gesture control, search and apps, and ultra-thin, ultra-definition screens, are already on display.
www.samsung.com
www.lg.com
www.sony.com
www.panasonic.co.jp
www.sharpusa.com
www.vizio.com
www.lenovo.com
www.google.com