Vdio is a new online video service from Janus Friis, the co-founder of Skype and Rdio. Currently in a closed trial, it will be launched initially in the United Kingdom. Vdio, pronounced vee-dee-o, is like the music service Rdio, pronounced ar-dee-o, but for movies and television programmes, and will be run by a separate team. It will need to learn from the lessons of Joost.
Vdio was founded by Janus Friis, the Danish entrepreneur who with Niklas Zennström was jointly responsible for the file sharing network Kazaa and the peer-to-peer telephony service Skype, which they sold to eBay for $2.6 billion in cash.
The Vdeo management team has experience from Skype, Napster, Microsoft, TV Guide, and Apache. The chief executive is Ian Aaron, former president of the Gemstar TV Guide Television Group. The chief technology officer is Justin Erenkrantz, a former software engineer at Joost.
The web site currently shows a rotating set of full screen promotional shots for shows like Top Gear, Doctor Who, and movies like Reservoir Dogs and The Godfather.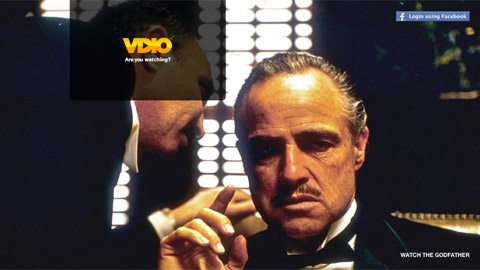 Vdio has been generously described as a competitor to Netflix. It will also have to compete with established players like LoveFilm, now owned by Amazon, and the BBC iPlayer, not to mention the ambitions of Google and YouTube around long-form online video.
The question is whether Vdio will learn from the lessons of Joost, the online video service created by Friis and Zennström in 2006, initially based on the peer network technology of Skype.
Joost failed to acquire sufficiently attractive programming or create a compelling user proposition. The service was wound up and sold to Adconion Media Group in 2009.
With "offices in Santa Monica and Europe" the challenge for Vdio will be to understand the sensibilities of the European viewer, which are significantly different to those in the United States.
There is little reason to believe that rights holders will be any keener to deal with Vdio than they were with Joost, and "classic" movies like The Godfather from 1972 may not be sufficient.
Vdio will no doubt attract attention because of its association with Skype, but money and technology alone are not enough to ensure success in the online video market. The Vdio strapline is "Are you watching?" and that will be a key question.