The new Roku 2 streaming players include support for a motion sensing remote control. It uses Freespace MotionEngine software from HillCrest Labs, a technology that informitv has previously featured. Unlike other motion control technologies that use external cameras or infrared sensor bars, it is all contained in the remote control. In this case, it is the price point that is interesting. At just $99.99, the top of the line Roku 2 XS media player comes with a motion sensing Game Remote as standard.
"Roku has raised the stakes in the streaming player market, and they have introduced a wonderful new casual gaming experience that consumers will love," said Dan Simpkins, the chief executive and founder of Hillcrest Labs. "Beyond Roku 2's elegant design and wide content selection, the new remote delivers state-of-the art motion control technology in products of exceptional value."
The tiny Roku 2 box comes in three versions, starting at $59.99 and the Game Remote will be available as an optional extra for $29.99. The XS model costs $99.99 and supports 1080p video playback, with USB and Ethernet ports in addition to Wi-Fi connectivity and comes complete with the motion sensing remote control and a free Angry Birds game to use with it.
All the products provide access to Netflix, Hulu Plus and Amazon Instant Video, among other streaming video options.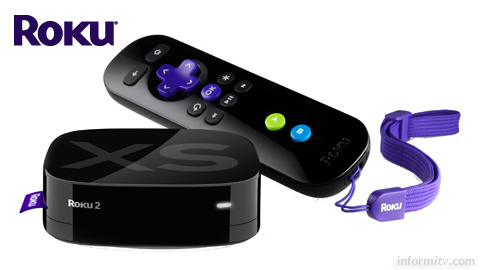 "Working with Hillcrest's Freespace technology, we designed an exciting motion control interface for point-and-click and motion controlled casual games," said Rajeev Raman, responsible for products at Roku. "With the flick of the wrist users can play games like Angry Birds and enjoy more from Roku than ever before."
The Hillcrest Labs Freespace motion sensing technology translates hand movements into precise onscreen actions, regardless of the orientation of the remote control in space, automatically compensating for minor tremors. It does not require line of sight and with Bluetooth wireless support can be used from any position.
With the Game Remote, the Ruku box can be used as a casual games device. It may not compete with dedicated boxes like the Wii, or new cloud based gaming devices like the OnLive Game System, but may be suitable for occasional games and avoids the need for an additional controller. Until the Apple TV box is unlocked with a richer range of apps, which may be only a matter of time, the Roku range offers remarkable value.
It can no longer be argued that user interfaces are necessarily limited by budget remote controls. We are increasingly seeing innovation in both control devices and user interfaces that promise to improve the television user experience. Whether point and click is ultimately the optimal paradigm for a remote control is another matter.