Sky has confirmed that it plans to launch an app that turns an Apple iPad or an iPhone into an intelligent programme guide and remote control. Although there are already many similar apps, the Sky one is understood to link directly to a broadband connected Sky+ HD box over a home WiFi wireless network. The future of interactive television will integrate communication between different input devices and displays and change the way we engage with the medium.
The infrared television remote control has remained relatively unchanged for decades. The Sky remote is better than most, but they generally have far too many buttons and are often confusing to use. Designed to be as inexpensive as possible, they are inherently limited in their capabilities.
The prevalence of smartphones and tablets offers new ways to interact with the television, through a much more capable device that people already own and are comfortable using, without needing to point it directly at the screen. Service providers and consumer electronics manufacturers can extend the capabilities and convenience of their products at no extra cost.
Apps from Sky and others already allow users to view an electronic programme guide and set their digital video recorder. These actually involve sending a signal via satellite to programme the set-top box, without offering any feedback for confirmation. Sky handles up to 1.5 million requests a week in this way.
A home wireless network allows direct communication with connected devices, and the touch screen provides an intuitive interface that can display information without interrupting television viewing. It can also be used to control different devices, avoiding the need for a stack of dedicated remote controls.
It is possible to control set-top boxes using dedicated universal remotes or special infrared emitter devices, but most television devices lack a standardised application programming interface that can be accessed securely over a network. That is likely to change as more devices and displays become network connected.
Apple offers elegantly seamless remote control of its Apple TV devices, but this does not currently extend to traditional television viewing. Sony offers a free Media Remote iPhone app that offers control of some of its devices. Samsung has a Smart View app that even allows video to be viewed remotely from certain Samsung digital video recorders on Android smartphones and tablets.
David Gibbs, the director of mobile apps and services at Sky, confirmed at a conference in London that Sky was working on ways to control its set-top boxes from an iPad. Sky is also developing dedicated Sports and Entertainment products to complement its Sky News app.
Virgin Media is also expected to offer an iPad app with its new platform, powered by TiVo. The application has already been enthusiastically received in the United States, where it works with the latest Premiere boxes and is integrated with some smaller cable providers.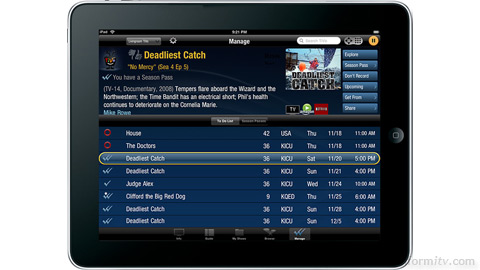 It is unclear whether YouView, the planned platform backed by the main terrestrial broadcasters in the United Kingdom, will offer something similar. So far their strategy has been all about defining the user interface, on the assumption that will be on a television screen, driven by a conventional remote control.
That will continue to be how many people interact with their television for years to come, but the prospect of connecting smart handheld devices to the television screen promises to change the paradigm of how we engage with the medium.
Ralph Rivera, the digital media director at the BBC, spoke recently of connected devices working in concert with each other, which he refers to as "orchestrated media," with each screen taking a role in delivering an experience, such that a tablet can be complementary to the television.
For over a decade, interactive television has been restricted by the constraints of set-top box software and the limited forms of interaction possible with an infrared remote control. This model of interaction has reached its limits with the exponential expansion of channel choices and a virtually limitless variety of video-on-demand viewing.
With handheld devices designed specifically for interaction, new forms of navigation, search and discovery can be enabled. In many cases these are also personal devices, so they can be customised to the individual needs of each user. Identified individuals will also be able to rate and recommend programmes through social networks, and receive personal recommendations from others.
Designers have made countless attempts to improve the television remote control, but the smart television remote may be the one that you already have in your hand.