Pay-television technology company NDS has announced two new products to help service providers extend their offering over the internet. A Service Delivery Platform provides open interfaces to support applications on a wide range of devices. More significantly, their Infinite TV Exchange supports a marketplace for programmes, enabling operators to move from hundreds to thousands of special interest channels. If it lives up to its promise, it could transform the way channels are created and managed, opening up the market to many more specialist programme providers, or what NDS is calling "micro broadcasters".
Yoni Hashkes, the co-founder of NDS, who is now responsible for advanced products and markets, sat down with informitv to demonstrate the online marketplace, which they have been working on developing for eighteen months.
"This is not a standard NDS type product offering," he began. "Infinite TV Exchange is an NDS hosted exchange where content is ingested, described, then negotiated inside a marketplace. The result is then used to build channels with TV quality experience."
It allows rights owners to upload programming and licence it to channel and platform operators, supporting online negotiation and documentation of deals. Virtual channels can be created and delivered to various devices through a conventional grid guide that users can personalise with their chosen channels. It looks like a breakthrough product, potentially allowing operators to provide thousands of channels across television and other network connected displays.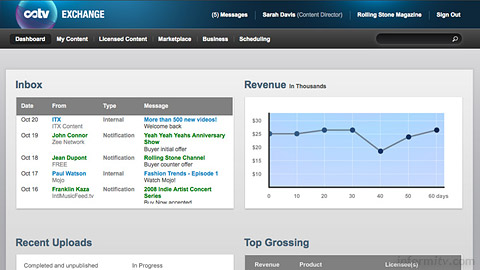 He demonstrated it with an example channel for Rolling Stone magazine, showing how a consumer could simply click to add the channel to their subscription, immediately viewable on a tablet like an Apple iPad, but potentially also on a conventional set-top box.
The channel was shown on a modified Sky+ HD digital video recorder, appearing under a separate "My channels" tab in the electronic programme guide. Unlike a video-on-demand catalogue, programmes appear within traditionally scheduled channels. These can be added and managed by the user on an à la carte basis and viewed within their normal pay-television environment. "This is answering the holy grail of how to get this to the TV," he said.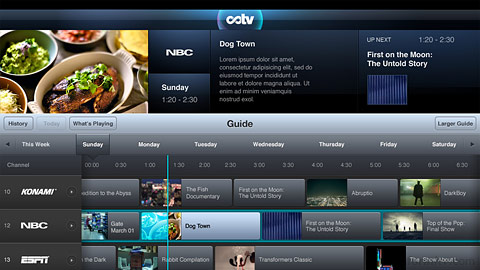 Infinite TV Exchange is designed to help rights owners reach pay-television platforms worldwide, while enabling operators to integrate any number of virtual channels with their existing platforms and extending delivery to new devices like tablets. Quite simply, it is what both sides of the business have been waiting for. As Yoni says: "The 'eureka' moments in which service providers and content owners see the value in the platform have been universal."
The business to business platform is branded with an infinity symbol. The only problem is that NDS repeatedly refers to its product as ITX, which is very similar to be the well-established name of a channel playout system developed by Omnibus, now owned and marketed by Miranda Technologies. Interestingly, a quick search suggests that Omnibus did not manage to trade mark its iTX product, at least in Europe, as it was opposed due to similarity with another existing trade mark.
Nevertheless, if NDS can persuade programming providers and platform operators to use its product, it promises to revolutionise the way in which programmes are traded and channels are managed, at least for niche interests.
Brands such as National Geographic, Wild Earth TV and Red Bull Media have committed over 100,000 hours of content to Infinite TV Exchange. They are now waiting for service providers to sign up. The first platform customer is expected to go live in the summer, with more over the following year.
As Mike McGuire of Gartner observes: "The idea of creating a marketplace where broadcasters and service providers can negotiate directly with content owners to build and integrate their own specialized, over-the-top channels is the kind of innovation that is needed — giving subscribers an integrated entertainment experience."
Based in the United Kingdom, NDS is owned by News Corporation and Permira Funds. Its middleware has been deployed in over 170 million devices worldwide, including in 35 million digital video recorders, such as the Sky+ box.
If NDS customers, like Sky in the United Kingdom, or DIRECTV in the United States, were to adopt such a platform it would offer a powerful way of integrating specialist programming delivered over broadband within their broadcast bouquets. For potential micro-broadcasters, that represents a very interesting opportunity.