Forming Sky News into an independent public company could offer a way by which News Corporation can acquire the remaining shares in British Sky Broadcasting, assuming it can agree an acceptable price. Jeremy Darroch, the chief executive of Sky, was a keynote speaker at the FT Digital Media and Broadcasting Conference in London. Beyond suggesting that there will effectively be no change for Sky News, he demonstrated that a customer focussed strategy would continue to deliver results for Sky, based on what he called "the marriage of content and innovation". Jeremy Hunt, the culture secretary, was also due to speak. He was instead called to the Commons to deliver the news of his decision not to refer the case to the Competition Commission.
Subject to a brief period of public consultation, the secretary of state intends to accept undertakings from News Corporation to create a separate public limited company for Sky News, retaining its stake of just over 39%, capped for ten years. The company would have a majority of independent directors including the chair. The channel would have a ten year carriage agreement and a seven year renewable brand license.
The solution has attracted criticism from an unlikely alliance including the Guardian, the Telegraph, the Daily Mail and the Mirror, who are all concerned that under News Corporation control Sky will have greater opportunity to cross promote with the Times and the Sun, creating a powerful competitor.
The real question may be whether anyone else will want to acquire a stake in Sky News, and whether viewers will be any better served as a result.
As far as Jeremy Darroch is concerned, it will be business as usual. The former chief financial officer of British Sky Broadcasting was promoted to chief executive in place of James Murdoch towards the end of 2007. In his confident conference keynote he concentrated on the secret of success for Sky.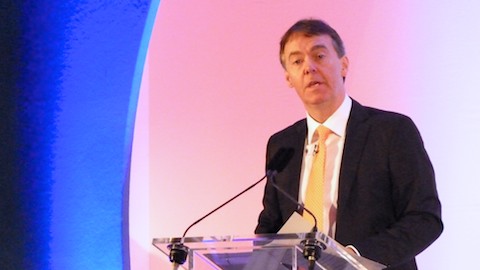 "We never forget that we are a consumer business," he said. "Customer satisfaction is more important than daily ratings," he continued. "We need to show them how much better TV can be." It is an approach that is distinctly different from that of the BBC or indeed most commercial television channels.
He made it clear that Sky will continue to invest in programming, citing the launch of Sky Atlantic, underpinned by a partnership with HBO, and its commitment to Sky Arts. "We now intend to accelerate the development of our general entertainment offering,"he said. "We plan to take it to an entirely different scale."
Sky championed the introduction of high-definition television in the United Kingdom. "Customers want a higher quality viewing experience and they are prepared to pay for it," he said. "Now with the launch of our 3D television channel we are taking that a step further". Although it is still "very early days with 3D," he described stereoscopic television as "a genuine fusion of content and technology innovation".
Sky is also continuing to extend its services and connect to customers outside the home. Later this year to complement Sky Anytime it will launch Sky Anywhere, "a new service allowing customers to access our content on multiple devices both inside and outside the home". Demonstrating its commitment to Sky News, it will also soon launch a new iPad application which it claims "will be the first interactive live video news service".
So the strategy for Sky is simple: "By constantly improving the whole experience of TV we're adding more customers and were selling more products to those customers".
Having passed its previous target of ten million homes, Sky is not revealing any long-term objectives, but it is clear that the company is concentrating on growing the profitability of its existing customer base.
As informitv has previously observed, half the homes in the country now subscribe to pay-television, which represents a significant tipping point. The growth in Sky subscriptions has been remarkably linear over the last five years, as management steered a steady course towards their long-term target of ten million. The question is whether the market is reaching saturation or whether there is still room for subscriber growth.
At the current rate of net additions, Sky could reach 50% share of homes somewhere between 2018 and 2020. If we assume that Virgin Media also adds subscribers at its current rate, pay-television in the United Kingdom could pass 65% share somewhere between 2017 and the end of the decade.
If News Corporation does take full control of BSkyB, the union of Sky and News International will be by far the most significant media player in the United Kingdom, with revenues comparable to those of the other terrestrial broadcasters combined.