Mark Thompson, the director general of the BBC, opened the Financial Times Digital Media and Broadcasting Conference in London by comparing his role to the Wizard of Oz, "a vainglorious title but a rather small and pathetic, more uncertain figure behind the curtain". The keynote speech may not merit an Oscar, but he tentatively painted a conservative picture of a broadcasting world that has perhaps changed less than he might have previously predicted. Nevertheless, he took the opportunity to suggest the need to focus on mobile television and gave the first indication of pricing for a new international BBC iPlayer subscription service.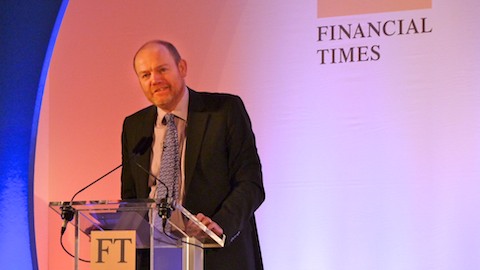 "Nowhere should we feel more humble in trying to predict the future," he began. "Certainly as far as broadcasting is concerned, the future is not what it used to be."
He might well have been thinking back to his speech at the Edinburgh International Television Festival in 2005, when he proclaimed: "This decade will be the decade of on-demand" and first announced what was then called MyBBCPlayer, now known as the BBC iPlayer.
Five years ago, the BBC apparently believed that by now up to half of media viewing would be time-shifted. Today, he said it accounts for as little as 10% of total television viewing and predicts that it might grow to little more than 15% by 2016.
While 10% represents around half the viewing share of BBC One, or more than the combined share of all other BBC television channels, he said it did not "add up to the bloody revolution that many predicted."
People are actually watching more traditional television than five years ago. However, among younger people the decline has been dramatic. He observed that people have always watched less television as they move through adolescence and early adulthood with their consumption increasing after that.
An eighteen year old today watches only ten hours of television a week, compared to someone the same age five years ago who watched fourteen hours a week. There is evidence that it begins to rise as they grow older. The average twenty-year old actually watches slightly more than his counterpart five years ago. The question is whether it will continue to rise to an average of around 26 hours a week, and indeed whether younger people, who are growing up in a completely digital world, will ever watch as much television.
As a result, he suggested that "we may see a period of continuity which is then followed by discontinuity — evolution followed by revolution".
He presented the BBC iPlayer as evidence of growing interest in catching up on recently transmitted programmes. In January the BBC iPlayer served 162 million programme requests, with the greatest growth coming from smart phones, tablets and games consoles.
He took the opportunity to suggest the need to focus on portable devices. "So far as an industry," he said, "we have given too little attention to television on mobile devices".
"I believe that there's a strong case for the UK's broadcasters, mobile phone operators, Ofcom and Government to come together to develop a roadmap for the introduction of mobile TV in this country," he argued. "This will be complementary to the availability of TV content on demand, whether streamed or cached on the device and would enable the public to access time-critical content — news, major sports events and so on — wherever they are."
Some might be surprised at the sudden interest in mobile television, which has hardly been a significant success in any market, despite efforts by many mobile network operators. One might suspect that it might be a pitch for spectrum that will become available once analogue television signals are switched off.
"For 80 years, we've been involved in developing platforms and broadcast technologies," the director general of the BBC concluded."We still need to do that — not least because we are the only big player prepared to share our innovations and technology with the industry at large. But we never forget that platforms and devices are a means to an end — and the end is putting outstanding, worthwhile content in front of the public."
This last point was a refreshing return to an emphasis on programmes from the head of a public broadcaster that some might feel has become too concerned with developing platforms and products.
Questioned on this afterwards by the conference chairman, specifically on why there was a need for YouView, a platform that plans to combine broadcast and broadband delivery of programmes, he suggested that it would not be a special case.
"The BBC will support IPTV platforms and we will make our content available to any large scale IPTV platform, so we're not going to favour YouView."
That might provide some comfort to pay television operators Sky and Virgin Media, who have questioned the policy proposed by the BBC to limit syndication of its programmes to its iPlayer products, as indeed has the competition partner at the communications regulator Ofcom.
What was notable was the lack of explicit support or encouragement that the BBC director general appeared to offer YouView, given the opportunity provided by the speech. For those that watch such matters closely, that may be very significant at a time when the joint venture needs all the support it can get.
On the day of the launch of the second version of the Apple iPad, he was, however, drawn on the topic of the global iPlayer which will initially launch exclusively on that platform in the United States. He said it would launch "definitely this year" and asked about the cost he said "we're talking about a small number of dollars per month". When pressed on pricing, he said "Definitely fewer than ten," adding "we're exploring what the right pricing and what the right models are".
Anyone expecting to see the full range of BBC programmes available internationally on such a subscription basis is likely to be disappointed. For rights reasons, as well as commercial considerations, only a limited amount of BBC output is likely to be available. At stake are the revenues that BBC Worldwide receives for the carriage of its channels, transmission of its programmes as well as retail sales of media products.
He suggested that would be resolved by maintaining a relatively small window for subscription services before programmes were made available for broadcast.
"Over time, I guess you would expect a shift in value between those windows, with the direct to consumer window becoming more valuable and therefore over time the broadcast rights becoming less valuable." He said: "Because the on demand windows are going to be quite small for some years to come, I'm not sure that it's going to be economically significant."