Cisco is ambitiously aiming to reinvent the television experience with a product portfolio it calls Videoscape, bringing together various elements into a unified architecture to integrate digital television, online media, social applications and communications. Aimed at service providers, it claims to be an open platform that uses the cloud, the network, and client devices to deliver new video experiences over the internet. At the moment the conception is cloudy and rather vague.
In the home, Cisco envisages a Videoscape media gateway, an IP set-top box, and software clients that extend the service to other devices, from smartphones and tablets to connected televisions. In the cloud, it comprises the Videoscape Media Suite content management platform. In the network, it uses a Conductor messaging bus product to orchestrate the various services.
The concept, while apparently technically sound, is currently little more than a demo and a few corporate videos.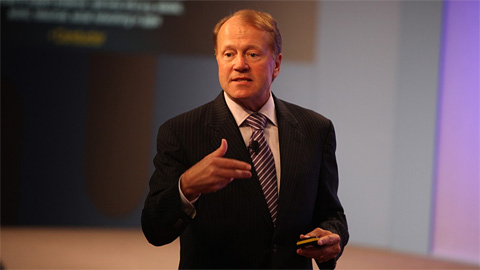 Cisco chief executive John Chambers hosted a media event at CES, proclaiming "Video will be the next voice" and "The network is the platform". He described Videoscape as "a software architecture announcement". In other words, it is not a platform or a product that you can buy, more an architecture that service provider partners can implement. He presented the Videoscape experience as allowing any device, over any network, to get any content to which it is authorised, bringing this together intelligently in the network. He said: "We think the future is going to be about reinventing the TV."
It might be more impressive if technology vendors stopped talking about "content" and showed a little enthusiasm for television as a medium. As far as the demonstration went, it appears to be all about basketball. The demo showed how a search for basketball would reveal programming on traditional television channels, partner channels, and a personal network bringing together user contributed clips, video messages and video calls.
There is also an implicit assumption that the service provider will be a network operator and that the consumer will receive their telecommunications, television, mobile and broadband services from a single company. That quadruple play may be the ambition of some of their telecommunications customers but it does not reflect the reality for many consumers or households.
Cisco introduced Telstra in Australia as a reference customer. David Thodey, the chief executive of Telstra, is quoted as saying: "We see tremendous opportunity with IP video services that offer consumers interactive, internet-like experiences using both the TV and the PC. We worked with Cisco to deploy a Content Delivery Network that quickly proved to be a key differentiator for Telstra, and means we can provide products and services with a more consistent and reliable video experience to multiple devices."
The chief executive of Cisco conceded: "For those of you in the room asking how many Telstras are there in the world, the answer is that there will be a handful that move forward very aggressively, across the board architecturally." Cisco says it is also in trials with two leading service providers in the United States. Virgin Media in the United Kingdom is another example of a company for which such an approach might just work.
In practice, the internet can already provide this convergence of networks, albeit currently imperfectly. A user can put down an electronic book on an Amazon Kindle and resume reading from the same point in a Kindle application on another device, whether it runs on a Microsoft, Apple, Android or Blackberry operating system. This works independently of any particular network provider.
The same will eventually be true for video. The technical implementation is not a real challenge. The real issues relate to rights. Those best-placed to deliver this vision of seamless video viewing across different devices will be those that have the relevant rights, and in most markets these will almost by definition be pay-television service providers.