Microsoft has finally formally launched its new online video service in the United Kingdom. Following a six month trial, the new-look offering now includes 1,000 hours of full-length television programmes, supplemented by other video clips and film trailers that were previously available on the MSN portal. On the evidence of the launch proposition, building a credible programming library has been a challenge.
Microsoft has been doing non-exclusive deals with independent production companies like Endemol to distribute their programmes once they come out of broadcaster holdback and the rights revert to the producers. As yet it does not have direct deals with broadcasters, beyond a limited amount of archive programming originally made available by BBC Worldwide.
The MSN video player brings together video from across the portal and provides separate sections for Full TV Shows and Movies. There is also a Queue, which acts as a playlist to which users can add programmes.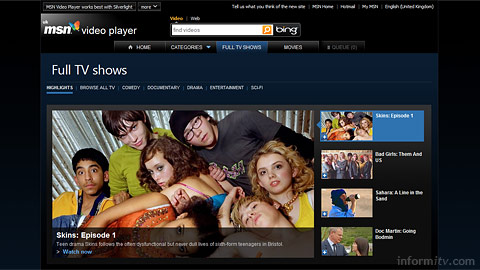 The programming and it presentation is somewhat haphazard and the recommendations appear to be rather random. In all there are only around 80 series titles, spread thinly across comedy, documentary, drama, entertainment and sci-fi genres. These do not provide the impression that they have been editorially selected or curated.
Where a programme does not have a title, some of the programmes are simply identified as Series 1, Episode 1, with the series name beneath, given the same prominence as the production company.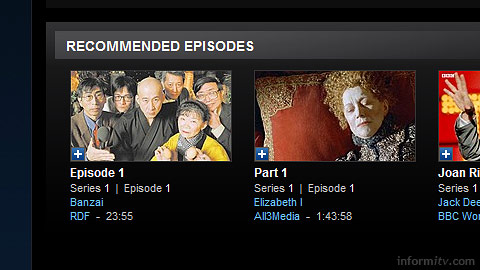 Viewing is free, supported by advertisements before, during and after the programmes.
The MSN Video Player will soon offer a selection of programmes in high definition using Microsoft Silverlight Smooth Streaming, although this is currently not needed to watch other programmes, with support also provided for the rival Adobe Flash format.
The standard definition video for the television programmes appears to be of only average quality and the high-definition movie trailers are less than exceptional.
Leading the launch of the MSN service is Ashley Highfield, now Managing Director of Consumer and Online at Microsoft UK. He was previously chief executive of the Kangaroo consortium of British broadcasters that was blocked by the Competition Commission. Before that he was director of Future Media and Technology at the BBC, where he originally championed the BBC iPlayer.
"We will continue to innovate in this space and work with advertisers, content owners and distributors," he told the Wall Street Journal.
The MSN Video Player faces similar challenges to SeeSaw, the standalone service that was recently launched by Arqiva, based on the bones of the Kangaroo project. Both are competing in a crowded market, currently dominated by broadcasters with their own services and other aggregators like YouTube, which now includes shows from Channel Four and Five.
The broadcasters that were originally part of the Kangaroo joint venture have now turned their attention to a new consortium, known as Project Canvas. This aims to create a new platform to deliver online video to televisions.
Last month Ashley Highfield described Canvas as potentially "a good thing for the industry" but added that the BBC Trust "has got its work cut out to make sure that all players are able to benefit from driving IP to the TV".
Pay-television operators Sky and Virgin Media have been critical of Canvas. The Digital TV Group, which includes many of the partners in the proposed Canvas consortium among its members, has also criticised the project for failing to engage with the wider industry and provide documentation on the proposed open specification. The DTG is meanwhile working on its own Connected TV standards.
For Microsoft, the MSN video offering can work as part of its own online portal, or as a brand within a connected television platform. It does not necessarily need, and is unlikely to obtain, access to scheduled programmes from broadcasters.
MSN UK claims around 16 million unique users a month and is a default destination for many users. It is not clear how many of these will view video on the site. The handful of largely illiterate comments on the blog page does not suggest a vibrant community. MSN will pick up passing online video traffic, but will not benefit from the constant on air promotion that the online video services of broadcasters receive or the massive audience of YouTube.
Technically competent, the MSN Video Player lacks a passion for its programming, which is where the BBC iPlayer undoubtedly wins and SeeSaw could succeed, assuming that Hulu does not open its doors on the British virtual high street.