3DTV was one of the main themes at the Consumer Electronics Show in Las Vegas, with manufacturers hoping to harness interest in 3D cinema, as demonstrated by the box office success of movies like Avatar, and bring it into the home. They hope this will be supported by new standards for stereoscopic 3D on Blu-ray discs. A number of 3D television channels are also planned. Some see 3D as the next natural evolution in media technology after high definition. 3D may add a new dimension for displays, but it is important to keep it in perspective. Less than one per cent of televisions sold this year will be 3D capable and only a small proportion of programming will be available in stereoscopic formats.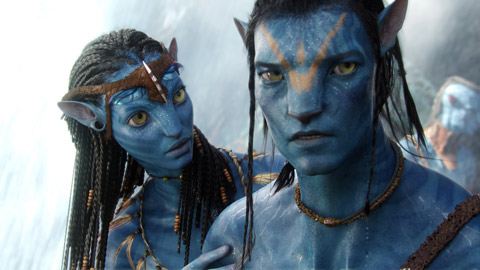 "Theatrical 3D is the gateway to in-home 3D," said Frederic Rose, the chairman and chief executive of Technicolor. "The revival of 3D movies at the multiplex has overwhelmingly engaged and intrigued consumers who now want immersive entertainment experiences in the comfort of their homes."
Technicolor announced an alliance with DreamWorks and Samsung to accelerate the worldwide deployment of 3D in the home.
DirectTV is set to launch three dedicated 3D channels sponsored for the first year by Panasonic. From June 2010, millions of DirectTV HD customers will receive a free software upgrade to their set-top box. DIRECTV is working with a number of partners to develop 3D programming. The three channels will include pay per view movies, documentaries and other productions, with a sampler channel featuring sports, music and other events.
"Adding the most HD channels to our lineup gave customers a viewing experience that was incredibly lifelike. Adding 3D to the mix will take that one step further allowing them to become part of the cast as the picture comes to life in their living rooms," enthused Eric Shanks, executive vice president of DIRECTV entertainment.
ESPN has also announced a 3D channel, sponsored by Sony. It will showcase over 80 live sporting events in its first year, beginning with up to 25 matches from the World Cup.
"ESPN 3D marries great content with new technology to enhance the fan's viewing experience and puts ESPN at the forefront of the next big advance for TV viewing," said ESPN and ABC Sports president George Bodenheimer.
Meanwhile Sony, Discovery and IMAX announced a joint venture to develop a dedicated 3D television network in the United States. It is aimed at driving consumer adoption of 3D, with the potential for international expansion.
"Sony is the only company with expertise in every part of the 3D value chain," said Sir Howard Stringer, the head of Sony Corporation. "It is clear to us that consumers will always migrate to a better and richer entertainment experience, and together we are determined to be the leader in providing that around the world."
In the UK, Sky is expected to launch a 3D channel later this year. It is also reported that Canal+ in France is making similar preparations. Sky says that its service will be compatible with the 3D Ready televisions planned by LG, Panasonic, Samsung and Sony. It will work with existing Sky+ HD boxes.
"3DTV is not just the hot topic of the day — it's the natural evolution of digital media for the home. As we are seeing in the cinema, modern 3D creates a better and more immediate experience that was ever possible before," said Dr Sean McCarthy, chair of 3DTV Working Group at the MPEGIF industry association.
He said it reminded him of the challenges the industry faced with the emergence of new MPEG4/AVC compression technologies. However, he suggested that 3DTV could become widespread much more quickly because 3DTV distribution can leverage existing MPEG-based headends, channels and digital set top boxes.
Fortunately, it seems that many of the 3D displays will support active shutter glasses, rather than passive polarised lenses. It is relatively easy for manufacturers to add the switching to display alternate images for each eye and there are no negative effects on conventional 2D material. As a result, manufacturers hope that they will be able to charge a premium for the differentiation of 3D displays as large flat screens become increasingly commodity items. In time, it could be just another feature of displays.
The market for stereoscopic 3D displays is forecast to grow to nearly 200 million units in 2018, worth $22 billion, according to a new report from DisplaySearch. Only 200,000 3D capable televisions were shipped last year. The firm forecasts that 1.2 million 3D capable televisions will be sold in 2010, a relatively low number considering total television sales of over 200 million, rising to over 15 million in 2013. 3D-ready TVs will be the largest application by revenue, reaching 64 million units in 2018, worth $17 billion.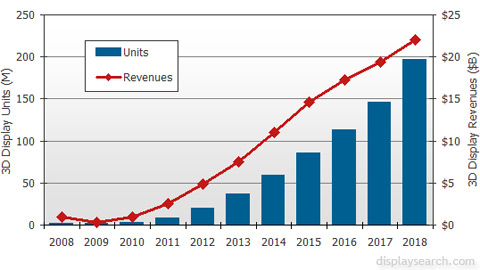 However, mobile phones will represent the largest application in terms of units, with 70 million 3D capable devices forecast to be sold in 2018.
While it may be difficult to imagine donning special spectacles to watch a movie on a mobile screen, portable devices could actually be ideal for personal viewing on stereoscopic eyewear displays.
For its part, the Consumer Electronics Association expects sales of more than 4 million 3D television sets in 2010.
The industry is determined that 3D television will be a success, but while consumers may initially be attracted to the idea of 3DTV, adoption will be dependent upon social factors. The typical television viewing situation is very different to that in a movie theatre. There will also initially be relatively little 3D material to watch and it will an expensive new display and special glasses. As a result, informitv predicts that while for those with the right kit the viewing experience may be spectacular, 3DTV will be initially only a limited success.