Microsoft has launched a new version of its Mediaroom platform, allowing operators to deliver services over the open internet as well as across managed networks. Services can be viewed on set-top boxes, Xbox 360 games consoles and in Windows Media Centre on Microsoft Windows 7, as well as any web browser supporting Silverlight and soon compatible smart phones.
The capability was announced by Steve Ballmer, the chief executive of Microsoft, in the Keynote presentation at the CES trade show in Las Vegas. A demonstration of Windows 7 attempted to show how Windows Media Centre could be used to record up to four cable television channels on the TV with a built-in PC. Unfortunately it failed to perform after a power failure that delayed the start of the presentation.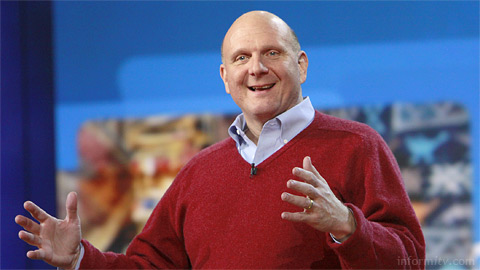 Giving the demonstration, Ryan Asdourian from the Windows team said: "TV becomes a lot more fun when it's powered by a PC, but when you add Microsoft Media Room to it, you get even more."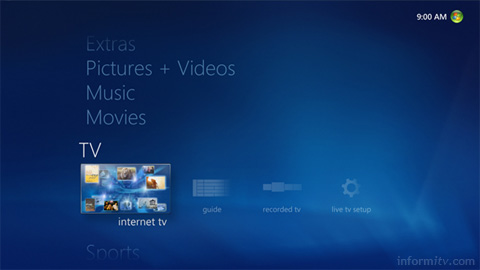 Steve Ballmer said that version 2.0 of Microsoft Mediaroom enables television and video services to be delivered over the internet. "The Silverlight presentation and Smooth Streaming technologies are really the secret sauce that blends the best of interactive video technologies, and the best of internet technologies," he said. "Now Media Room 2.0 lets operators, developers and content creators deliver those next generation video entertainment experiences on platforms like the PC."
The presentation showed a cable television service received with a cable card, combined with a service delivered over the internet. It also showed a number of "slate TV" form factors, in an attempt to pre-empt an announcement from Apple, including a prototype device from Hewlett-Packard.
Robbie Bach, president of the entertainment and devices division, previewed research into what it calls a Natural User Interface, or NUI, based on interaction by interpreting human form and gestures from an imaging system.
"We are at an exciting inflection point in technology where we are able to create an experience that is simpler, more intuitive, more natural, and that point is codenamed Project Natal for Xbox 360," he said. It will be available for existing Xbox systems by the end of 2010.
For the last five years, informitv has been saying that the boundary between IPTV services delivered over managed networks and online video delivered over the open internet is blurring. Microsoft is now saying that they will merge in cloud-based services.
The Microsoft story is somewhat confusing, now bringing together its Mediaroom and Media Center propositions. On the one hand it enables telco operators to extend their IPTV services beyond their managed networks to computers, games consoles and certain mobile phones. On the other hand, customers can also view and record conventional satellite, cable or free to air television with appropriate receivers.
The reality is that after years of attempting to get into the television business, its Mediaroom powered set-top box is now in just over four million homes worldwide, two million of them with AT&T in America. This still represents only a small fraction of digital television homes worldwide. Meanwhile, Media Center has yet to really break through into the mainstream, despite now being built into latest versions of the Microsoft Windows operating system. Now Microsoft is enabling television and video services to be delivered to its Xbox games console, or smart phones running a Microsoft operating system. By enabling services to be delivered across all these devices, Microsoft is closer to delivering a cross-platform user experience.
"Our strategy with Mediaroom is to combine the power of client software and cloud-based services to greatly enhance the way consumers experience digital entertainment. We want to make it easier for consumers to find and discover great content, to watch, listen and engage in new ways, and to do so anywhere and on any screen," said Enrique Rodriguez, vice president for the TV, Video and Music Business at Microsoft. "Mediaroom 2.0 is a key milestone in our strategy, providing the software platform to power operators' service clouds to reach more screens, and more people, with more content than ever before."
It means that viewers could start watching a programme on one screen and finish watching later on another. Or they could select programmes on their smart phone and watch them later on their television or personal computer. Programmes recorded on a home digital video recorder will be available anywhere, inside or outside the home.
So far, Microsoft Mediaroom has been confined to the managed quality of service networks of operators. By integrating Microsoft Smooth Streaming technology, operators can offer a premium, high-definition quality video-on-demand service over general internet protocol networks.
The new version of Mediaroom also provides support for Microsoft PlayReady content protection, which works across a range of devices. A new storefront provides a rich visual browsing experience.
"Software and cloud services will be the key to unifying and creating these new, more personalized, integrated experiences for the viewer even as the number of hardware devices proliferates," according to Ted Malone, senior director of product management in the Microsoft TV, Video and Music division. "The challenge of storing and accessing vast sources of content in the 'cloud' is something the Microsoft team is focused on solving and we've made some good progress."
Microsoft Mediaroom 2.0 will be available for operators to begin testing from February.