Intel and Yahoo! have announced plans for TV Widgets to enable viewers to use internet applications designed for the television while watching programmes. TV Widgets will be based on web standards, including Javascript, XML, HTML and Flash. They will include widgets for Yahoo! branded applications and other services such as eBay.
"TV will fundamentally change how we talk about, imagine and experience the internet," said Eric Kim, of the digital home group at Intel. "No longer just a passive experience unless the viewer wants it that way, Intel and Yahoo! are proposing a way where the TV and Internet are as interactive, and seamless, as possible."
"Our close work has produced an exciting application framework upon which the industry can collaborate, innovate and differentiate. This effort is one of what we believe will be many exciting new ways to bring the Internet to the TV, and it really shows the potential of what consumers can look forward to."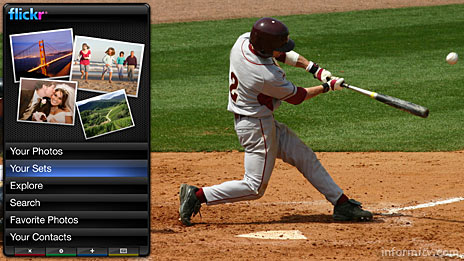 "On the PC and mobile devices, Yahoo! is a leading starting point for millions of consumers around the world," said Marco Boerries of the Yahoo! connected life group. "Yahoo! aims to extend this leadership to the emerging world of internet-connected TV, which we call the Cinematic Internet." There's a mixed metaphor, and a trade mark, apparently.
"There has been a lot of talk about bringing interactive Internet content to the television," said Anthony Soohoo of CBS Interactive, "but none of the approaches can match the ease of use, flexibility and level of customization of the Widget Channel framework."
The initiative was welcomed by Albert Cheng who is responsible for digital media at Disney-ABC Television Group. "We believe an open platform that delivers interactive TV applications will be a key driver for our industry over the next several years," he said. "It provides a broad canvas which allows content and entertainment providers such as ABC to develop interactive applications around TV content and gives advertisers new and unique ways to deliver their messages, while bringing consumers an intuitive new way to enjoy TV."
"Merging the very different user experience of the Internet with that of the TV is no small task," observed Eric Breitbard of the interactive design agency Schematic. He described the Widget Channel platform as a very impressive user interface for developers and consumers alike.
Intel and Yahoo! plan to make a development kit available to developers, including TV and other consumer electronics device makers, advertisers and publishers.
Intel is aiming to bring its architecture to purpose built system-on-chip media processors for internet connected devices, including digital televisions, set-top boxes and optical media players. Its first chip is the Media Processor CE 3100, previously known as Canmore, which provides features such as high-definition video decoding, surround sound processing, 3D graphics and supports the fusion of internet and television experiences.
The only consumer electronics companies mentioned so far are Samsung and Toshiba.
"Bringing the Internet experience to the television will deliver amazing new services to consumers," said Kevin Kim at Samsung. "Consumer electronics and service providers can create closer bonds with their subscribers by delivering a new experience to that allows them to easily enjoy, share and access internet content through their TV."
This is certainly not the first initiative to bring the internet to television and it will probably not be the last. As we have observed previously at informitv, the prevalence of high-definition screens makes such a fusion more attractive. The other main change has been the emergence of web based services and application interfaces that will enable such widgets.
What are clearly required now are consumer electronics products that support such applications. Intel clearly has one eye on television as a major market.