Teletext Extra is a new interactive service available for Freeview digital terrestrial television in the United Kingdom. It has been launched by Teletext and InView Interactive in response to the technical limitations of existing digital text services. Based on new software known as Juice, it is faster, easier to navigate and supports much better graphics.
Digital text services have tended to be rather limited, largely as a result of the technical restrictions of the platform, based on the MHEG-5 standard which was specified over a decade ago.
The Teletext Extra service is designed to take advantage of upgrades that are being downloaded to many receivers.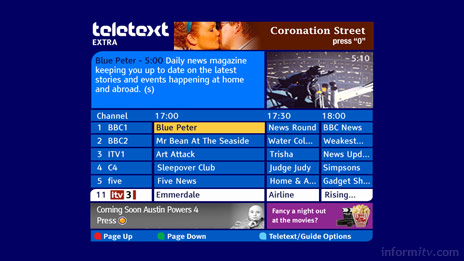 The enhancements were "born out of frustration with MHEG in terms of what it can do," Nigel Beighton, the chief technology officer of Teletext, told informitv. Although he remains committed to the standard, he said "MHEG simply wasn't designed to do what we need for a good customer experience."
For a commercial service such as Teletext, which is supported by advertising, providing an acceptable consumer experience has become a business imperative. "You can't say 'please wait'. Public expectation has moved on," he said. "Commercially we have to move on the experience."
The innovation came from InView Interactive, a company which delivers an electronic programme guide over the air.
InView has developed an interactive platform technology it calls Juice, which it is making available to consumer electronics companies. It is designed to operate within the memory constraints of existing low cost receivers, enabling both new and legacy products to be upgraded to support new interactive services currently being broadcast.
The Juice software sits alongside the MHEG middleware and is based on a virtual machine running on a set of core modules that are being made available royalty free to manufacturers.
The platform enables persistent storage, so that data can be pre-cached in the receiver, making applications quicker to load without requiring additional broadcast bandwidth. It can receive data broadcast for existing MHEG applications and present it with a richer user experience.
InView has partnered with Teletext to launch Teletext Extra. This new service has been designed to enhance the viewing experience for millions of Freeview customers. It features a comprehensive 14 day electronic programme guide with search and reminder functions, and direct links to an enhanced, faster Teletext service.
Notably, the service is accessed using the programme guide button on the remote control, which is far more likely to be used than the text button.
For the first time viewers are also able to see high resolution images accompanying the latest news, entertainment and sports stories
Existing set-top boxes from many manufacturers are being upgraded with over-air downloads. So far an estimated four million boxes are compatible, with the aim of reaching 10 million by the end of 2008.
Teletext describes it as "one of the most exciting developments in digital terrestrial television technology since the launch of Freeview itself."
This evolutionary approach offers a prospect of upgrading the existing MHEG-5 platform in a way that can co-exist with legacy devices.