British satellite broadcaster BSkyB is preparing a new version of its electronic programme guide that will be made available to Sky HD boxes later this year. The new guide uses a high-definition display and new design features to provide an enhanced user experience. The new guide is currently under test with some Sky employees. Sky calls it "an EPG for the HD era".
Despite minor enhancements, the Sky programme guide has remained relatively unchanged since the platform first launched eight years ago. Services such as the Sky+ digital video recorder have been grafted on, but the basic design has remained the same, maintaining compatibility with older boxes.
With the launch of its high-definition service, Sky had the opportunity to address a subset of its customers that could be assumed to have high-definition compatible widescreen displays. For the last two years they have been working on a new generation interface.
With the launch of Freesat, a free satellite television platform backed by the BBC and ITV, Sky needs to maintain its advantage. The satellite broadcaster is also preparing the way for the delivery of video-on-demand services over broadband. These will enable it to compete with similar services planned for Freesat, as well as the offerings from Virgin Media on cable and other operators such as BT Vision.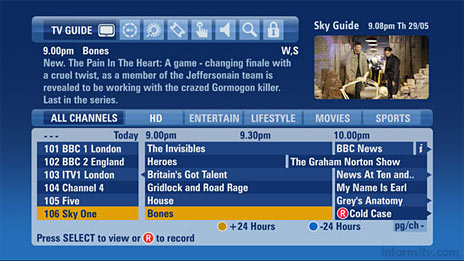 The new look EPG is evolutionary rather than revolutionary. It includes a picture-in-picture display to allow users to keep watching a programme while they use the guide. This long-overdue feature requires a change in the way that programme listings information is received.
More programme information will be cached in the set-top box, so that it can be accessed irrespective of the channel being viewed. This will also allow further information to be viewed about any programme in the next 12 hours using the browse banner, as well as allowing programme recordings and series links to be set, without having to enter the full programme guide.
Improved keyword search facilities will also allow filtering by genre and subgenre. Series stacking will group search results and recorded programmes by show.
The new features appear to address many of the minor irritations that flaw the otherwise efficient Sky+ interface, providing a more contemporary appearance.
"The HD Sky Guide will make our best TV product even better," said Brian Sullivan, managing director of Sky's customer group. "This is truly an EPG for the HD era."