Over four million digital terrestrial television receivers were sold in the United Kingdom in the last quarter of 2007, with Freeview overtaking Sky as the leading digital television platform. It brings the total number of digital television households to 86.7%, or over 22.2 million homes. While only 12% of the country still relies on analogue signals for the main set in the home, nearly 40% of sets are still dependent on analogue reception.
There were almost 2.3 million integrated digital television receivers sold in the three months up to Christmas, and an additional 1.8 million set-top boxes. Over 10 million Freeview compatible receivers were sold in 2007, compared to 6 million the year before.
Digital terrestrial television only households accounted for just under half of the growth in digital television homes. The number rose by just under a quarter of a million to 9.5 million by the end of 2007.
With an estimated million using free-to-view digital satellite services, there are now over 10.5 million homes watching free-to-view digital television on their main set in the UK.
The number of BSkyB digital satellite subscribers rose by 145,000 to reach almost 8.3 million. Virgin Media digital cable numbers rose by 86,500 to reach nearly 3.3 million.
Digital terrestrial television is now the main form of reception in 37% of the 25.6 million television homes in the UK.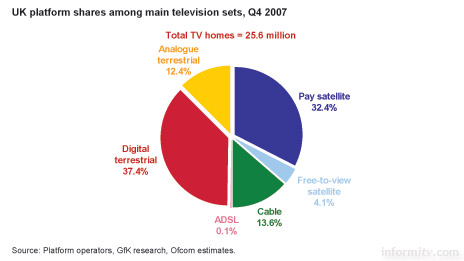 Digital terrestrial also accounts for a similar share of the total number of television sets, accounting for 36% of the estimated 60 million sets in use.
However, nearly 40% of all television sets in the country still rely on analogue signals, representing around 23 million sets to be converted over the next three years.
The figures were published in the latest Digital Television Update from the communications regulator Ofcom.