The BBC has addressed many of the criticisms of its iPlayer by streaming its programmes using Adobe Flash. It means that programmes can be viewed online without waiting for them to download. It also makes the service available to browsers and computers other than those running Microsoft Windows software. The BBC is planning a promotional push to finally launch the iPlayer over Christmas and is finally redesigning the home page of its web site.
Erik Huggers, controller of future media and technology at the BBC, showed the new version of the iPlayer at a conference in London. The former executive from Microsoft, where he was previously responsible for promoting Windows Media, has opted to back the Adobe Flash format. This means that the iPlayer is now accessible to users of computers that do not run Microsoft Windows, including Apple Macs.
The BBC is planning an on-air promotional campaign that will commence on Christmas Day, with the tag line "making the un-missable un-missable". Launching any service on a public holiday that traditionally reaches one of the largest television audiences can only be described as a bold move by the BBC, even if it has been in trial for months or arguably years.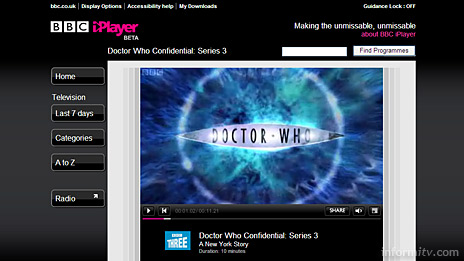 The latest version of the iPlayer is a far more compelling proposition, offering the instant gratification of immediate streaming to which users have become accustomed on the web. Previously broadcast programmes are streamed in reasonably high quality, at 512×288 pixels at a data rate of about 512Kb for audio and video.
It seems strange that the BBC was unable to do this before, when it was argued strenuously that rights agreements with producers required the use of the proprietary Microsoft Windows digital rights management system as the only feasible means of limiting the distribution of programmes within a seven day time window.
Programmes are still available for download in the Windows Media format using the existing Kontiki peer-to-peer download manager. The advantage of this is that programmes can be viewed while offline, digital rights management permitting.
While the BBC can justify streaming its programmes for relatively small numbers of users, the remaining issue will be one of cost and scaling to accommodate large audiences. There is also the question of how the corporation will support its objective of streaming its channels live.
The broadcaster is using Akamai to provide its content distribution network, but such services charge broadly based on the volume of usage. For a public service broadcaster that does not carry advertising, the cost of delivery could become considerable if the service is successful.
At a separate conference in London, Anthony Rose, the head of digital media technology at the BBC, outlined one possible technical solution. He was recently brought in by Erik Huggers from Kazaa, where he was chief technology officer for their peer-to-peer platform.
He suggested that peer-to-peer did not deliver a cost-benefit to the consumer. "My preferred option right now is caching boxes that go in at ISPs," he said. "We think that by putting in about 200 boxes we should be able to deliver content fairly close to the edge." He described the cost of this as relatively affordable "You don't need much storage, not a huge number of locations and you can easily meet that bandwidth."
That sounds similar to a proposition from CacheLogic, a company that is hoping to install caches at service providers to create a content delivery network, similar in many ways to Akamai, but perhaps on a more local level.
The question that this raises is who will pay for such a solution — whether it is a justifiable investment for a public service broadcaster, or whether service providers will invest to protect their networks and their declining operating margins.
The move by the BBC to streaming programmes in addition to offering downloads follows a trend established by other broadcasters, including ITV and Channel 4 in the United Kingdom, and the major television networks in the United States.
The BBC is also preparing a version of its iPlayer for Virgin Media cable television viewers and is apparently in discussions over making its programmes available on demand on other broadband video platforms. These could include hybrid set-top boxes that combine broadcast and broadcast programming.
Then there is the joint initiative between the BBC, ITV and Channel 4, currently codenamed Kangaroo, to pool much of their programming through a common portal.
The eventual launch of the BBC iPlayer this Christmas is clearly only the beginning. We can expect to see a lot more activity around broadband video in 2008.
New home
The BBC is also preparing a new home page for its web site. In the first major redesign for years, users will be able to customise and personalise the new home page by simply dragging and dropping boxes into the layout of their choice.
Currently available for testing, it is definitely designed for broadband users, weighing in at over 300Kb. It also finally moves to a centred page design that looks much more modern, but takes advantage of higher screen resolutions, being nearly 1,000 pixels wide.
The redesign has been led by acting head of user experience Richard Titus, previously co-founder of Californian design agency Schematic.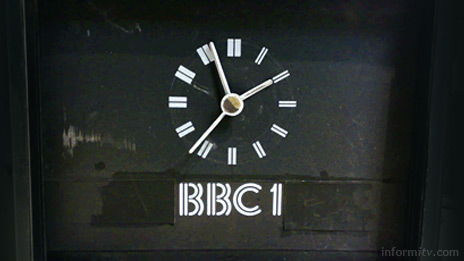 One anachronistic element is currently featured on the new home page, an animated analogue clock that reproduces a design once seen on television screens, when showing the time counted for continuity. Ironically, most broadcasters had to drop clocks from their continuity presentation with the switch to digital distribution, as the delays in compression meant that they would be inaccurate, lagging behind analogue transmissions by several seconds.