Macrovision plans to buy Gemstar-TV Guide for around $2.8 billion in cash and shares, partly funded by borrowing. With revenues of just under $250 million last year, Macrovision is less than half the size of Gemstar-TV Guide, which was valued at $14.2 billion back in 2000. News Corporation, which subsequently wrote off $6 billion from its investment, is among the shareholders that have agreed to the deal.
A statement said that the combined company will be "a leading enabler of the digital home entertainment experience and well-positioned to capture emerging opportunities across this exciting landscape."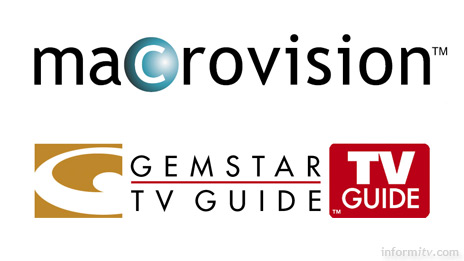 The bid is to become "the home page for the TV experience" — language that sounds dangerously similar to the rhetoric of previous mergers that have attempted to exploit the presumed convergence of the internet and television.
The combined company aims to make media available on numerous devices through simple and intuitive guides, which it says is currently prevented by interoperability barriers between devices and services.
In a joint statement they said that their strategic objectives have been to build and integrate open technology, content protection and distribution offerings that enable the delivery of digital media to consumers across multiple platforms and channels.
Although it has more recently moved into software distribution and digital rights management, Macrovision is still perhaps best known for its analogue copy protection system, while GemStar vigorously asserted patents around electronic programme guides, resulting in the merger with the publisher of TV Guide.
The circulation of the once definitive magazine has fallen to just over 3 million copies a week as viewers increasingly access programme information online or through their set-top box.
While Gemstar-TV Guide continues to licence technology associated with interactive programme guides, it was less successful in enforcing its patents. Its former chief executive and its then chief financial officer were sued by the Securities and Exchange Commission for allegedly overstating sales, with a court eventually ordering founder Henry Yuen to pay $22 million in fines.
"Users today are demanding an open, easy to use and integrated set of capabilities that deliver on the promise of the digital home," said Fred Amoroso, the chief executive of Macrovision. "This presents challenges to the content providers, distribution channels and device manufacturers as they struggle to quickly bring such offerings to market while preserving their unique value propositions."
"We believe that the combined entity, with its complementary technologies, customers and global presence has the potential to redefine the consumer entertainment experience and drive significant additional stockholder value," said Rich Battista, his counterpart at Gemstar-TV Guide. He will be leaving the company on conclusion of the acquisition.
The agreement follows an extensive review by Gemstar-TV Guide of its strategic options. The board of directors decided that it was the most effective alternative to maximise shareholder value. News Corporation, which owns over 40% of Gemstar-TV Guide, has agreed to back the deal.
Shares in both companies fell significantly on the announcement as investors apparently failed to share the vision behind the proposed acquisition.