BT Vision is extending its broadband video-on-demand service with an on-screen magazine to promote its programming. On Vision is linked from the interactive menu in the programme guide. The company is also experimenting with advertiser-supported films for free download from its associated online service.
The On Vision section of the BT Vision service was designed in-house and developed by Emuse Technologies. It is believed to be the first example in the world of an application using the Tasman web browser within the Microsoft Mediaroom environment.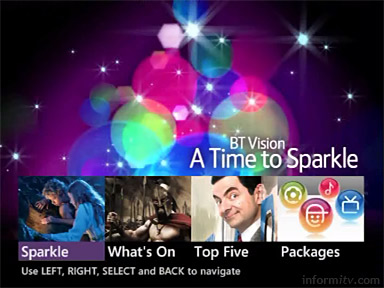 Similar services will soon be available for advertisers. The browser-based applications will ultimately enable advertisers to create rich interactive destination sites that can sit behind the red button.
BT Vision is also planning to launch an advertiser zone to enable companies to create permanent sites within the broadband video service.
This long-awaited development finally frees service providers from the constraints of the basic menu system offered by the Microsoft Mediaroom platform.
Free films
BT is meanwhile experimenting with a three-month online trial that will allow users to download free films. In return, they have to provide anonymous demographic information. This will result in the inclusion of targeted advertisements "at appropriate places" in the films which users will not be able to skip when viewing on their personal computer.
The system is based on software provided by Hiro Media, an Israeli company founded by Ariel Napchi and Ronny Golan. The initiative is being run in conjunction with FremantleMedia and Intel.
Once downloaded, the film will be available for one month. Providing that the viewer is online, different advertisements will be shown at each viewing. That assumes that users will want to watch any of the three films, Mischief Night, Played or The Punk Rock Movie, more than once.
The advertisements, provided by digital agency isobar, will include spots for the AA, Norwich Union and Territorial Army among others. The viewing of each advertisement can be tracked and reported centrally.
"We believe that sympathetically-placed, targeted advertising, combined with a viral film-sharing capability, will be attractive to many customers in conjunction with free or reduced content prices," said Antony Carbonari, director of interactive and commercial media for BT Vision.
An interesting feature is that the files can potentially even be distributed over file sharing networks and they will apparently still insert targeted advertisements.
While the advantages of unskippable commercial breaks may be clear to advertisers, it is unclear how they will be tolerated with consumers.
www.btvision.bt.com
www.emuse-tech.com
www.downloadstore.bt.com
www.hiro-media.com