A social media web site with links to television programmes has received first-round funding from Pond Venture Partners, an early-stage technology investment fund. Regular informitv readers will know that TIOTI originally stood for Tape It Off The Internet. With links to over half a million episodes of television programmes available for download, TIOTI combines aggregation and indexing with social networking features.
The first-round investment is described as a seven-figure sum, enabling TIOTI to invest in technical infrastructure to support growth, improve the current online offering and extend the service to a broader range of consumers across a number of platforms.
"In TIOTI, we're backing a team with the drive and vision to have a big impact in the rapidly evolving world of TV on the Internet," said Dr Michael Gera, the general partner of Pond Venture Partners and now a member of the TIOTI board. "TIOTI is offering something unique, which nicely complements the recent launches of IPTV and TV download services from various household names."
Following an extended trial period, the TIOTI site was officially launched at the beginning of October.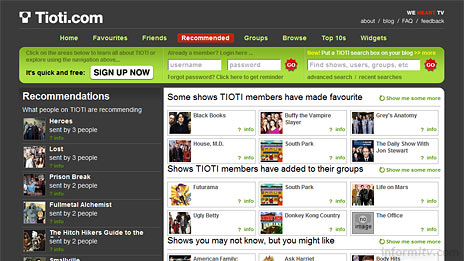 "It's fantastic to have the support of an experienced investment partner like Pond as we build TIOTI into the best place on the internet to go for TV," said Paul Cleghorn, the UK-based founding partner and creator of TIOTI.
Marc Colando, his US-based co-founding partner added: "We are thrilled to have Pond onboard with TIOTI at the start of this exciting global transition period for television. This investment will help bring the internet TV proposition of TIOTI to the mass market."