The BBC plans to stream programmes from its BBC iPlayer service to users of Microsoft Windows, Apple Mac and Linux computers using Adobe Flash by the end of the year. It will also make them available together with free access to the BBC web site over Wi-Fi hot spots operated by The Cloud.
By entering into a strategic relationship with Adobe, the BBC will use Flash software to stream its programmes across multiple platforms. It will complement the existing iPlayer programme download service which has been widely criticised for its dependence on proprietary digital rights management from Microsoft that is currently only supported on Windows computers.
When the BBC Trust finally approved plans for the iPlayer, it accepted the view advanced by management that downloads offered a better user experience than streams. That decision resulted in the adoption of digital rights management to limit the distribution and viewing of material to authorised users within a specific time window.
Other broadcasters, such as ITV in the United Kingdom, and major networks in the United States, have instead adopted a streaming approach, which simplifies rights management, although programmes can only be viewed while online.
Erik Huggers, the BBC Future Media and Technology group controller, a former Microsoft executive who was previously responsible for Windows Media in Europe, said: "I'm delighted to announce this strategic relationship with Adobe. It is important to ensure that BBC iPlayer is available on as many platforms as possible."
"It will offer our audiences increased flexibility as to how and when they consume our content, both live and on-demand, on bbc.co.uk. With a complete end-to-end workflow, Adobe's video solutions will revolutionise how we create and deliver content to audiences in the digital age."
Bruce Chizen, the chief executive of Adobe said that "With more control over playback, interactivity and branding, the move to Flash Player compatible video will help the BBC to engage audiences by delivering a seamless, instant-on web video experience."
While the move will no doubt be welcomed by many users, it is something of a set-back for Microsoft, especially given its hopes for Silverlight as a cross-platform response to Adobe Flash, which recently announced that it will support the open standard MPEG-4 H.264 video compression scheme.
It may also be a response to the relatively poor adoption of the iPlayer since its launch as a beta service. Although it has over 200,000 registered users, the number of programmes downloaded using the service has apparently been disappointing.
By streaming programmes using Adobe Flash, users should be able to benefit from instant playback, rather than waiting for programmes to download.
The challenge for the BBC may be in sustaining the demand for streams of its programmes if they prove significantly more popular than the download service.
In addition to the iPlayer, the BBC has ambitions to add video across its web site. Simon Nelson, of BBC Vision, the division formerly known as television, has outlined plans that show embedded video players integrated in programme pages.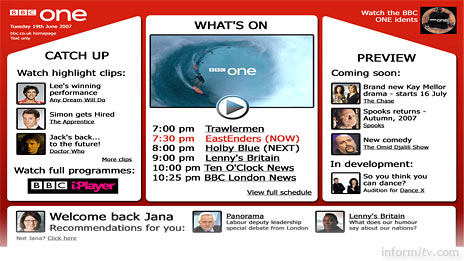 In a statement, the BBC was careful to point out that "all procurement of software, hardware and services will follow the BBC's usual procurement practice" although no details were provided of the commercial agreements.
The Cloud
In a separate announcement, the BBC has teamed up with The Cloud, which operates the largest network of wireless hotspots in the United Kingdom, to provide free access to the BBC web site.
"This venture enables us to offer free Wi-Fi access to BBC content on the high street, furthering the BBC's commitment to make its content as widely available as possible to our audiences wherever they are," said Ashley Highfield, director of future media and technology. "For instance, they can catch up on Strictly Come Dancing while having a caffe latte in Coffee Republic." Or they could take advantage of free access in almost 1,200 McDonalds restaurants across the country, or a network of sites across the square mile of the City of London.
"The explosion of media-capable devices, coupled with the high bandwidth and low cost Wi-Fi offers, means high-quality video and audio can be delivered to people wherever they are," said Owen Geddes of The Cloud.