DIRECTV viewers will have access to an expanded range of interactive coverage of the US Open tennis tournament on the USA Network. It follows the success of the interactive service last year, modelled on the interactive Wimbledon coverage pioneered by the BBC.
"Tennis fans throughout the country are rapidly embracing DIRECTV's interactive technology as the best way to watch tournament action and thoroughly immerse themselves in the feature-rich coverage that is available only on DIRECTV," said Eric Shanks, executive vice president of DirectTV Entertainment. "The marketplace is recognising the value of these unique services, and DIRECTV is excited to be working with a forward-thinking broadcaster like USA to deliver them directly to its audience."
DIRECTV launched the first interactive television coverage of the US Open last year. The interactive service this year is similar, with a slightly crisper design.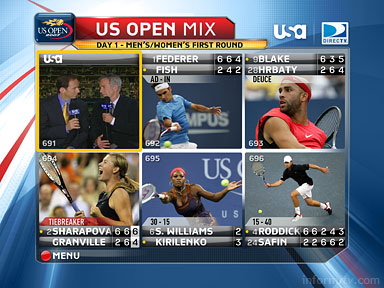 DIRECTV customers will have free access to the US Open Interactive service. This expands the coverage of the US Open on the USA Network to include access to more early round matches, statistics and information on demand, and the ability to view up to five matches simultaneously on a special US Open Mix channel, with live onscreen scoring of all the matches.
Additional features to be offered this year include detailed match coverage information. Details of matches on now will provide current scores and the DIRECTV channel on which the match is featured. Users will be able to tune directly to the relevant match. A list of matches on later will provide a schedule for each of the five featured courts. The interactive service will cover the conclusion of any matches that continue after coverage on the USA Network national broadcast ends.
"The success of the US Open Interactive on USA on DIRECTV last year, showed us that consumers are responding to interactive television," said Henry Ahn, executive vice president, NBC Universal, which provides the USA Network service. "Through this partnership with DIRECTV, we are able to provide consumers with the most robust US Open television experience available anywhere."