Users with an Apple TV box will be able to view selected clips from YouTube as well as listen to music without digital rights management restrictions. Apple is also offering an enhanced version of the video player, offering four times more storage capacity, enough it says for up to 200 hours of standard definition video.
Thousands of the most current and popular YouTube videos will be available on Apple TV from mid-June, with YouTube adding thousands more each week until the full YouTube catalogue is available in the autumn.
Significantly, it seems that this will involve converting the originally uploaded clips to H.264 format, an industry standard video compression scheme supported by Apple through QuickTime. It is not clear whether the H.264 clips will also be available on the web, which would enable them to be viewed on other devices that may not support the Flash video format.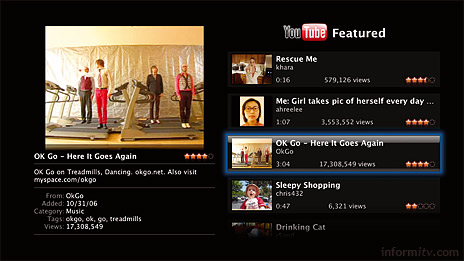 Users will be able to navigate through YouTube's video browsing categories or search for specific videos. YouTube members can also log-in to their YouTube accounts on Apple TV to view and save their favourite videos.
The deal with YouTube, now owned by Google, goes some way to addressing the lack of material available on Apple TV, although it is relatively easy to transfer even high-definition video to the box.
YouTube clips shown on a television screen are currently relatively low in quality and no match for even standard definition video, but resolution is in the eye of the beholder. Clips shown at a recent conference on a large presentation screen were surprisingly watchable.
"This is the first time users can easily browse, find and watch YouTube videos right from their living room couch, and it's really, really fun," said Steve Jobs, the chief executive of Apple. "YouTube is a worldwide sensation, and Apple TV is bringing it directly from the Internet onto the widescreen TV in your living room." The YouTube feature for Apple TV will be available as a free software update in mid-June.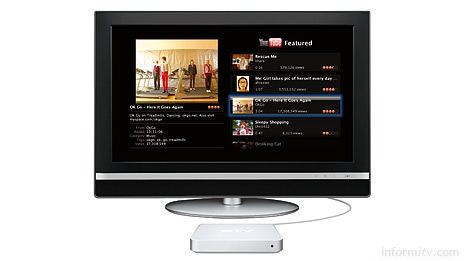 Apple has also launched iTunes Plus audio tracks without digital rights management. The DRM-free music tracks are encoded at 256kbps. Selected titles from the EMI catalogue are currently available for $1.29 per track.
Steve Jobs said he expected that more than half the five million or so songs on iTunes will be available in the format by the end of the year.
The Apple TV with a larger 160GB hard drive will be available on order at a cost an additional $100 at $399.
The larger drive addresses one of the other main criticisms of the Apple TV when it launched, providing a more reasonable amount of storage, particularly for high-definition video. Expect to see high-definition video material available through iTunes and other services in due course, and perhaps YouTube clips on the forthcoming Apple iPhone. Consider the possibility of services like Joost being added to Apple TV in the future.
It confirms our view at informitv that the Apple TV has the potential to become the equivalent of the iPod for the television. The iPod took some time to reach its established status and there will doubtless be further iterations of the Apple TV proposition.