The winners of the International Interactive Emmy Awards were announced at MIPTV in Cannes, with Canada leading the field. The awards ceremony was attended by over 250 international executives from the television, broadband and mobile industries.
Canada led the evening in a tie for the Interactive Program category between ReGenesis Extended Reality Game and Zimmer Twins, while BITE Television won the Interactive Channel category. The Interactive TV Service award went to BBCi in the United Kingdom.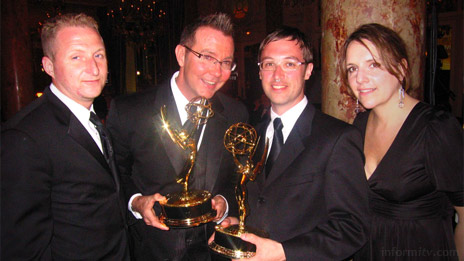 ReGenesis Extended Reality Game is an interactive narrative about biotechnology produced by Xenophile Media from Toronto, in association with Shaftesbury Films. The story is told over a series of web sites, emails, podcasts, phone calls, ending in a synchronised broadcast from multiple camera angles, both online and on televison.
Zimmer Twins is a series of animated shorts produced by Zinc Roe Design, also in Toronto. Each episode ends with an invitation to viewers to create the next one online by assembling scenes, characters, backgrounds and even adding their own dialogue. The best ones are broadcast on Teletoon Canada.
BITE Television is a multi-platform proposition, combining digital cable television, video on demand, web and mobile and a combination of user-generated, acquired and produced programming elements.
"The Emmy award is an enormous honour," said BITE chief executive Jeffrey Elliott. "It establishes BITE as an international leader in the field of interactive television. This is certainly an extraordinary achievement for such a young Canadian company."
BBCi is an interactive television service available across satellite, terrestrial and cable television in the United Kingdom, combining text, audio, video and interactive features, covering news and information and enhanced coverage of major events.
"The BBC has kept the faith with interactive television," said Rahul Chakkara, The controller of BBCi. "This award is recognition that the BBC is leading the way in interactive innovation."
The Pioneer Prize was presented to BSkyB, for their innovative contributions to the field of interactive television and accepted by Sophie Turner-Laing, managing director of Sky Entertainment.
www.iemmys.tv
www.zincroe.com
www.xenophile.ca
www.bitetv.ca
www.bbc.co.uk