Another contender for global broadband video delivery is making its bid for freedom, fame and fortune through friction-free distribution. Vuze, formerly code-named Zudeo, offers a broadband video distribution platform based on the popular Azureus peer-to-peer client application.
Vuze enables programming providers to publish and distribute high quality, even high-definition, video over the internet. The Vuze service aims to combine premium programming from worldwide media companies with high-quality self-published material.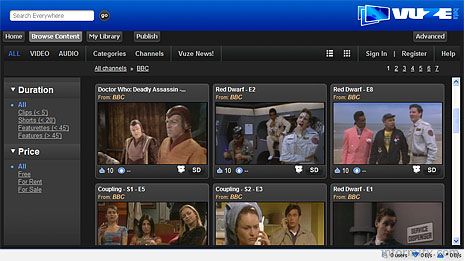 "Vuze recognizes that the next-generation online video experience lies within the
integration of licensed and self-published content showcased in a theatre-like viewing environment," said Gilles BianRosa, the chief executive of Azureus.
Vuze offers an alternative, low-cost distribution and marketing platform to distribute high-definition video material content to a fast growing global audience of millions of active users.
Azureus counts among its programming providers BBC Worldwide, A&E Networks, National Geographic and Starz Media. However, the current eclectic programming line-up is currently rather limited.
As with other services that attempt to aggregate video material from a variety of sources, the presentation and promotion of programming is poor. Most online video services have so far underestimated the editorial effort involved in promoting programmes.
The main attraction of Vuze lies in its use of a peer-to-peer system to distribute large media files. The original Azureus application has apparently been downloaded 140 million times. There were over two million downloads of the latest beta software last month.
Rights holders can make their material available for free. Videos can also be offered for sale in partnership with Azureus, a process which the company expects to automate. It also plans to enable support for advertiser-funded distribution.
There is still the potential for illicit distribution of copyright material. Azureus makes it clear that pirates are not welcome, promoting instead substantial non-infringing applications such as allowing independent film producers to distribute their titles.
Azureus is following the same strategy as the now commercial BitTorrent company in attempting to establish a legitimate distribution platform on peer-to-peer principles. At its heart, the open source Azureus client application uses the same BitTorrent protocol. It requires a Java runtime environment, which can be automatically downloaded as part of the installation process on a Windows computer.
The client application, although attractively designed, is not particularly consumer friendly, with references to jargon that may be familiar to more technical users but will be meaningless to the majority.
The Azureus Vuze application enables users to publish a file with a click of a button upload a file. The upload may take some time, as an hour of high-definition 720p video at 7Mbps consumes 2.6GB.
So-called 'magnet links' can be used to promote titles on web sites and blogs. These allow files to be referenced using a hash value, a unique reference derived from the file itself rather than a specific location.
Vuze brings the rather intimidating world of peer-to-peer file sharing a step closer to commercial respectability. It is currently still in the province of early adopter enthusiasts, but it offers the promise of an open platform for broadband video distribution.