Nintendo is launching a news channel on its latest games platform, backed by the international resources of the Associated Press. The free interactive service will allow users to navigate news stories using the innovative motion sensing remote control of the Wii games console.
The service has launched on the News Channel menu of the Wii console. The simple user interface allows Wii owners to spin a virtual globe and select news by region using the Wii wireless remote control. News stories are also listed under headings including sports, business, arts and entertainment, technology, and science and health. Stories will be frequently updated, using an always-on network connection.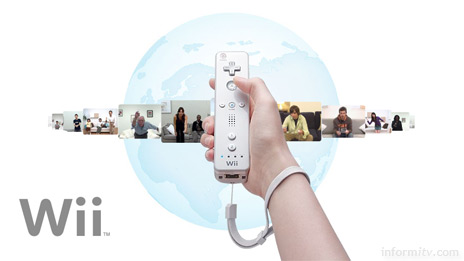 "What Wii has done for video gaming, we hope it will also accomplish for news," said Reggie Fils-Aime, the president of Nintendo of America. "Just by pointing at your TV screen, you become your own interactive editor, instantly accessing the latest headline stories, whether they originate in Kansas City or Kyoto."
"The Associated Press is always looking for innovative ways to expand its audience for news and information," said Jane Seagrave, director of the digital division of AP. "The Wii News Channel extends our global reach even further, on yet another platform, offering our news to people who otherwise might not see it."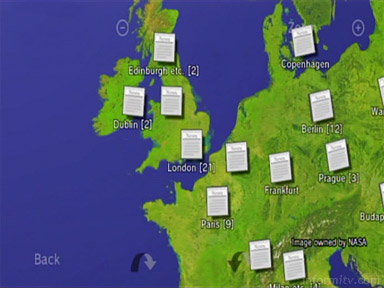 Users of the Wii games console can spin an interactive globe using their remote control to browse news stories by location and read them in a scrolling text window.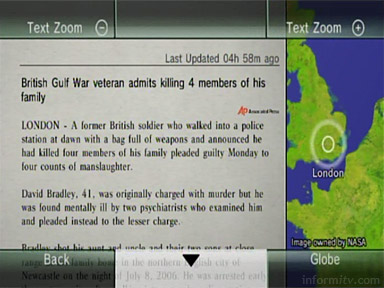 It is even possible to view ordinary web sites, using the built-in Opera web browser.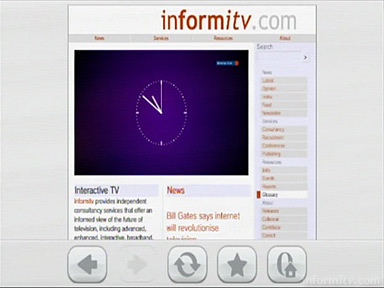 Nintendo, creator of classic games such as Mario, Donkey Kong and Pokemon, has sold over 387 million games units globally. It has sold over three million of its latest Wii console since its launch in November, pushing up profits for the games company.
Some over-enthusiastic owners have reported accidentally releasing the remote control and breaking their television screens. As a result, Nintendo is now offering consumers stronger wrist straps.